View Our Tours Departing From:




One Day to Nine Day Tours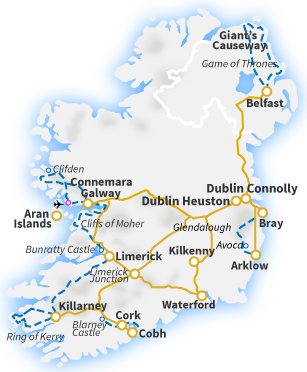 Book today. Travel Tomorrow.
Car Free Care Free!

Book today, travel tomorrow!

Book with us, free upgrades available
Fully escorted by our Railtours Ireland hosts
Modern, comfortable & spacious trains
Free WiFi on all trains
18 years providing Railtours
View all Tours
View Our Most Popular Tours
Special Offers
Book with us for breakfast on train, Dublin City Tour, Hop-on Hop-off
& free upgrade to 4* Hotel in Killarney (on extended tours)
Happy Thanksgiving!
Book Now and Save
2015 pricing for your 2016 vacation
Try 5 Star Luxury!
Enjoy the original Rail Cruise & Castle Tour, stay in 5 star Castle hotels.
No.1 Experts in Ireland Tours
In association with Iarnród Éireann, Railtours Ireland First Class offer Independent Travellers the chance to see a great portion of Ireland that they would not ordinarily be able to experience comfortably in 1 or more days.
We offer a wide range of extended tours from two days to nine days including quality B&B and hotel accommodation.
With reserved seats on InterCity rail services, most of which are luxury new trains, and special coaches with qualified driver / guides, we offer a wonderful day out.
Experience a Car Free Care Free vacation in Ireland!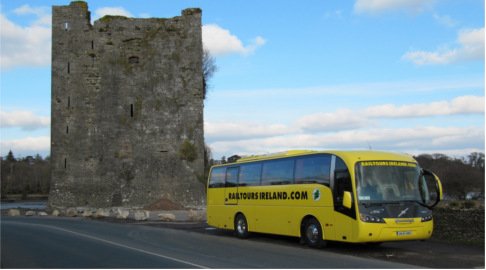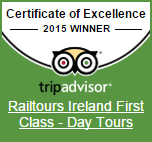 "An amazing way to see the country.... "
Meet our Hosts...