Travel Southwest by Train
Tour DH06
Day Tour to the Cliffs of Moher
Visit the Cliffs of Moher, Bunratty Castle, The Burren & Galway Bay
1 Day
$133pps
From price is based on 1 adult sharing.
Depart:
07:00 Dublin Heuston Station
Return:
21:45 Dublin Heuston Station
Departs:

Jan - Dec
Mon
Tue
Wed
Thu
Fri
Sat
Sun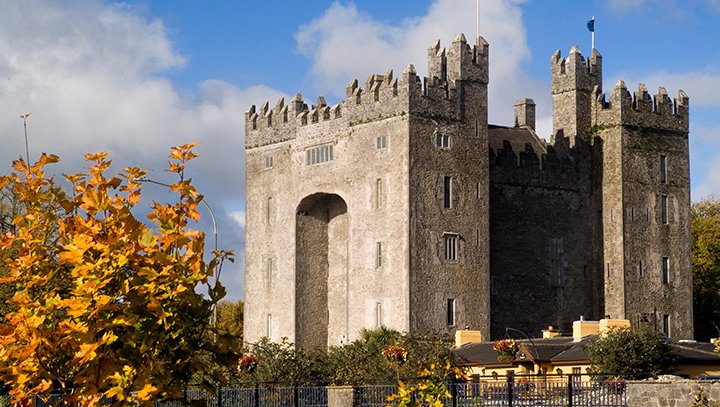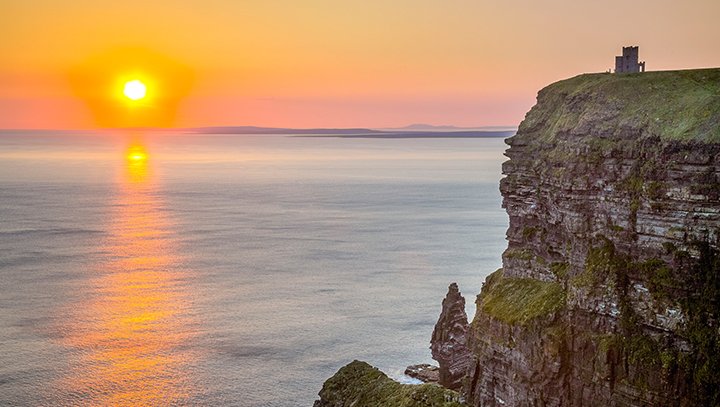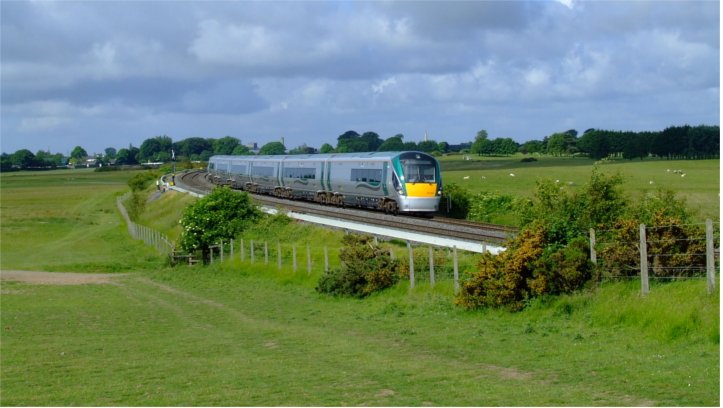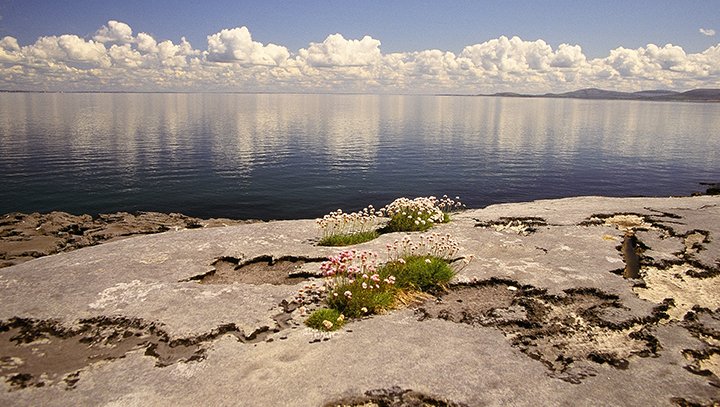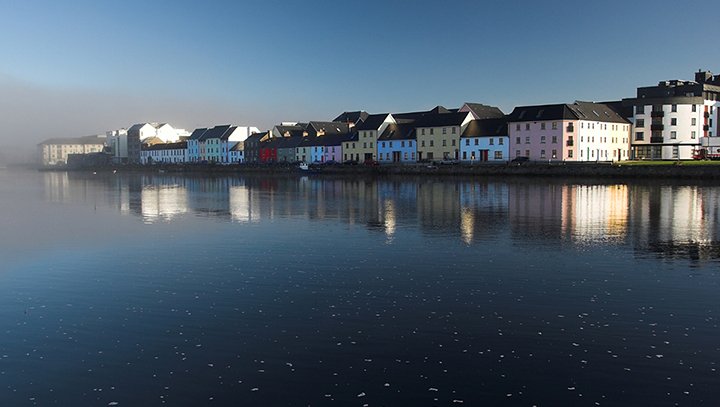 What's included?
All Rail Travel
Reserved Seats on the train
Railtours Ireland Host throughout
Visitor Attraction Admissions
Escorted Coach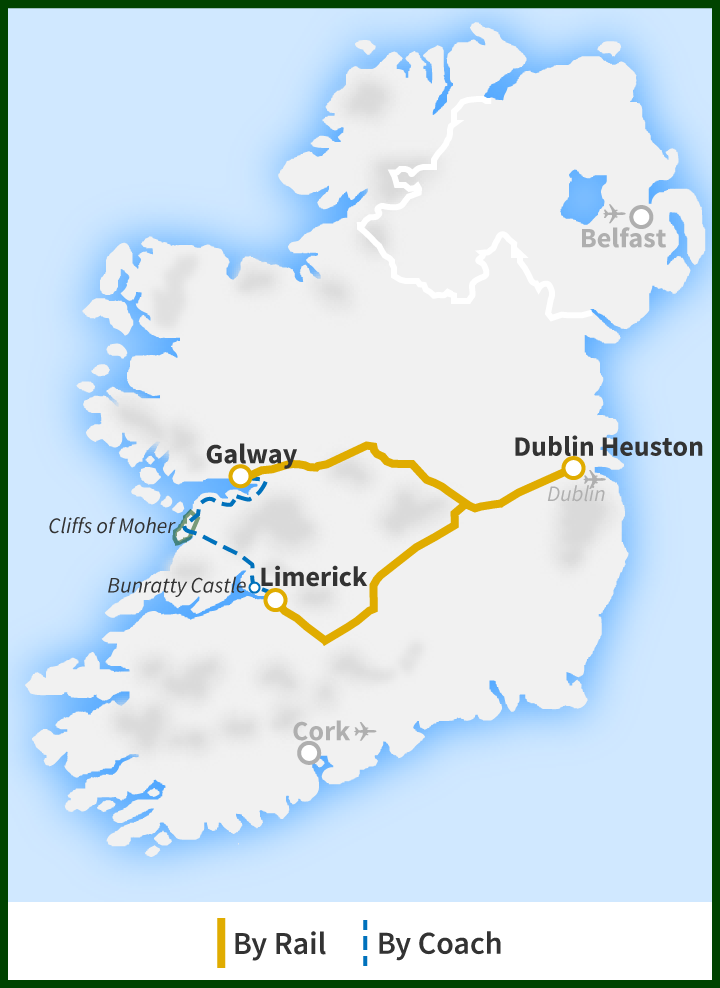 Overview & Map
Travel Southwest by Train
A day trip to Ireland's rugged and unique mid-western coast, through Limerick on the mighty River Shannon and onto the imposing Bunratty Castle with its lovely folk park. Visit the stunning Cliffs of Moher rising above the Wild Atlantic Way. Explore the lunar lanscape of the Burren and the beautiful shores of Galway Bay. A flavour of Galway City concludes the tour before our return to Dublin.
Full Itinerary
Full Day Tour:
Dublin to Bunratty Castle & Cliffs of Moher
hide
Check-in is 20 minutes prior to Train Departure Time.
Check-in is located close to the Customer Service Desk at Heuston Station where our Railtours Ireland representative will be waiting for you in their bright yellow jacket!
Check in for 07:00 departure from Dublin Heuston Station (Breakfast available Monday - Friday / Snackcar on Saturday), opened in 1844 as the headquarters of the Great Southern & Western Railway and is now the official principal station of Iarnród Éireann, Ireland's national railway company.
As your train departs, we travel in a south westerly direction, through Dublin's western suburbs and then through the lush, fertile countryside of Co. Kildare. Our journey takes us through the Curragh which is famous for its racecourse, home of the Irish Derby, and there are many stud farms in the vicinity. One of the train stops is Thurles, where the Gaelic Athletic Association (GAA) was founded in 1884. The GAA is the sporting body responsible for promoting Ireland's National sports - Gaelic football, Hurling and Camogie. We change trains at Limerick Junction for the Limerick bound train. You don't need to worry about this change as you will be fully escorted from Dublin to Limerick Station.
Upon our arrival to Limerick, we will join our Railtours Ireland tour coach. Limerick has a population of about 90,000 and its city charter was granted in 1197AD, making it older than London! As we cross the river Shannon - Ireland's longest river - you will see views of King John's Castle to the right-hand-side. The castle was completed in the year 1200 and marks the origins of the city. Limerick's most famous author, Frank McCourt, grew up here and the city was the setting for his famous book, 'Angela's Ashes'. Limerick is also the birthplace of celebrated BBC radio DJ, Terry Wogan and Hollywood star, Richard Harris.
We will pass the GAA grounds of Páirc na nGael – the home ground of County Limerick's Hurling and Gaelic Football teams. Limerick is also the home of Irish Rugby and we will pass Thomond Park, the Rugby stadium. After a brief city tour we travel onto Bunratty Castle and Folk Park. The castle was completed in 1425 and, after many years of neglect, has been restored to its former glory. There is also a folk park here which you will have time to explore.
After the visit to Bunratty Castle and Folk park we make our way to Co. Clare. There is a lunch stop at O' Connor's Pub in Doolin before arriving at the Cliffs of Moher, which are among the highest sea cliffs in Europe. There is plenty of time to visit Ireland's second most popular tourist attraction and your host will advise you of the departure time.
From here, we take the coast road for much of the way to Galway, with time for photos along the Burren. This is a national park and the word 'Burren' comes from the Irish Language, meaning 'rocky place'. It is a unique lunar landscape of limestone which was described in 1649 by one of Oliver Cromwell's men as: "No tree to hang a man, no water deep enough to drown him and no soil deep enough to bury him". Today the Burren is noted for its diverse flora with few parallels elsewhere in Ireland or, indeed, Europe.
We continue along the coast road to Black Head, passing the quaint coastal villages of Ballyvaughan and Kinvara before joining the main road to Galway. We have some free time in Galway to explore the streets around Eyre Square or to grab a bite to eat.
We depart Galway by train and return to Dublin by a different route, via Athenry, Tullamore and Athlone, where we cross the mighty river Shannon once more.
Train departs Galway station at 19:20pm.
Returns to Dublin Heuston at 21:45pm.
Visitor Attraction Admissions included: Bunratty Castle and Folk Park & The Cliffs of Moher Visitor Experience
All of our train tickets are open-ended on the return leg of the journey for up to one month after departure. Why not explore Galway city centre at your own leisure.
Add a night in Galway at the end of your day tour. We offer extra nights in Galway city centre (subject to availaibility) from €99 pps/night (2019 price) & €129 pps/night (2020 price). Extra nights can be requested at the time of booking!