""the most glorious time we ever could have imagined""
Dear Rail Tours Ireland:
In reference to Rexann and Colette Bassler booking to the Aran Island on April 17th (I think): Please do not fault Railtours Ireland guides, Peter or Anthony. My daughter and I did not wait long enough in the waiting room and panicked and started looking for a van or bus outside the train station. We should have waited in the waiting area of the train station as we were told to do. We had a wonderful time on the Aran Island tour and please accept our apologies for creating this confusion for Anthony and the rest of the Railtours staff.
We were also on the 6-day tour and had the most glorious time we ever could have imagined. Your guides (Peter and Paddy) and also the bus drivers, took such good care of us, hand holding us all the way, telling wonderful stories, and keeping us on track. The efficiency of your tours is amazing, we never felt rushed, we were well-fed, and got to see so much up close and personal. Ireland is such a beautiful country, and the people are so friendly, it made us not want to leave. Yes, we love our country, USA, but if there was anywhere else I wanted to live it would be Ireland.
Thank you again for doing such a wonderful job of showing us around, taking such good care of us, and making us feel comfortable and welcome. I will recommend Railtours Ireland to everyone!
Sincerely,
Rexann and Colette Bassler
""Splendid: Cliffs of Moher and more""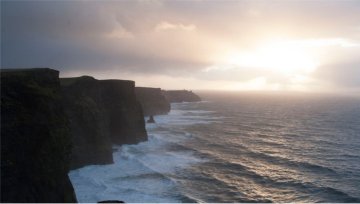 Yesterday my wife and I jumped on a tour by these fine folks. It's obvious they do this a lot.
The train travel was well done in a comfortable car with snack service.
We transferred to a really nice medium size coach
Our guide was Brian an he was hilarious. His knowledge and passion for Ireland was impressive. He took the time to get to know each of us.
Brian made an interesting trip a blast. We would do it again but would ask for Brian!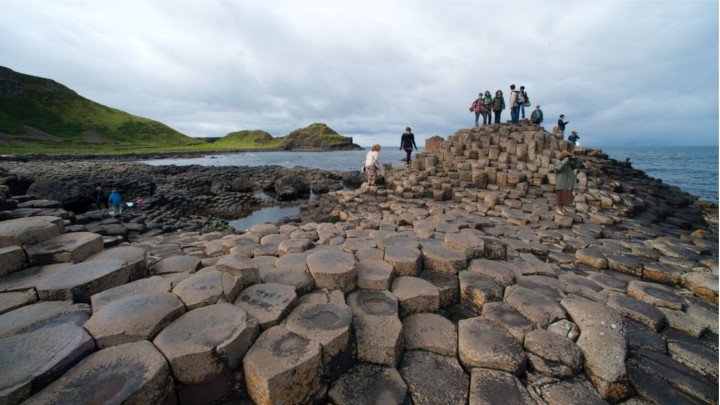 This is the first time I've booked with any tour company as I normally like to plan my own trips, but I have to say, Railtours Ireland just may have changed my travel experiences forever. They were wonderful! The planning and coordination involved in getting us from Dublin to Northern Ireland and back, all on schedule was truly amazing. I believe that they have their services absolutely fine tuned and would highly recommend them to anyone visiting Ireland. I wasn't unhappy with any aspect of the trip, from the first class train ride, to the comfortable coaches, the knowledge of the area by the guides, and the selection of the hotel stays. All wonderful. Great job Railtours.
Visited March 2017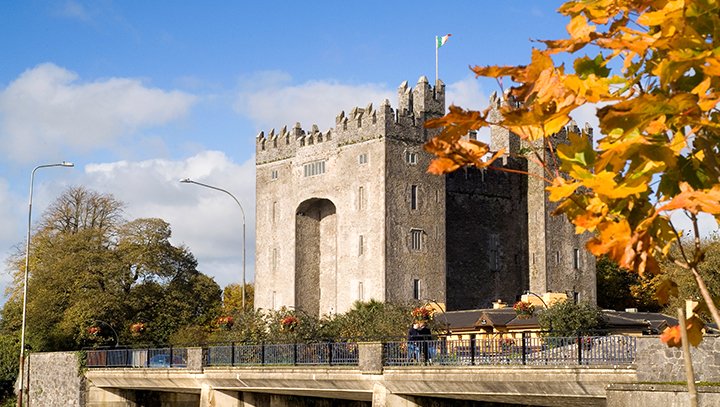 "Andy was wonderful"
We took the train/bus tour to the cliffs of Moher with Andy. He gave us a wealth of great history and plenty of time to explore, while singing several tunes. Fun for all ages.
Visited March 2017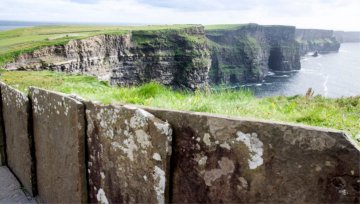 Jonathan Beaumont was the best tour guide that my husband and I have had so far. He made our trip to the cliffs of Moher not only fun but educational. We learned so much about Ireland's history from him and the land we traveled across. We highly recommend Railtours Ireland First Class and if you can we also recommend trying to be on one of Jonathan's tours. Sláinte!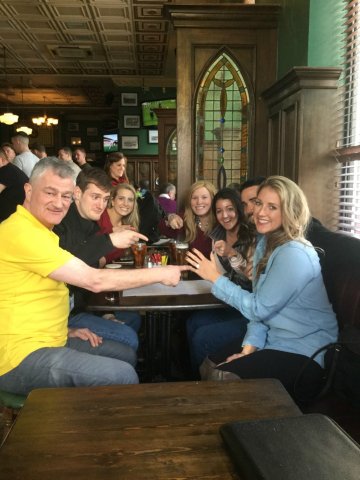 Congratulations to John and Jessica on their engagement at The Cliffs of Moher on tour with Railtours Ireland First Class!.
Pictured with our Host Jonathon and friends.
We wish them both the best of luck for the future.
""You'll Love These Guys Even If You Dislike Group Journeys""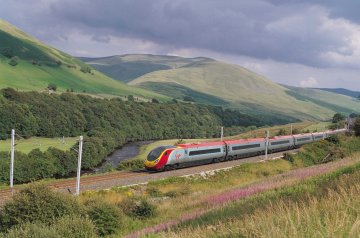 There are countless stunning places in the world—Ireland being one of the most enchanting—but what made our visit outstanding was the remarkable Irish people. Our hosts from Railtours were top-rate in just about every respect. These eloquent, gracious and knowledgeable men and women are all retired from their professions and it's obvious that they absolutely love hosting visitors to Ireland:

Brian accompanied us from Dublin to Cork & Cobh and impressed us with the detailed history of the areas we visited; Margaret ensured we got comfortably from Cobh to Killarney and gave us an insight into Irish family life and values; Paddy was with us at the Ring of Kerry and again in Northern Ireland and was so much fun to tease about allegedly being a leprechaun in disguise; Owen, "The Transfer Engineer in Galway" made us laugh for two days and thoughtfully orchestrated an earlier departure from Galway to escape a rainy day without our asking (can he read minds?).

Andy, who occasionally acts in plays and movies, was tremendous fun when he accompanied us in Limerick/Cliffs of Moher and again when we returned from Galway to Dublin… his singing, sense of humor, knowledge about various subjects and curiosity about other cultures brightened long journeys.

We also had a great time with Ray, who picked us up when we arrived in Dublin and sent us off when we departed. We were impressed with Railtours from the outset, when we were met in London at the start of our 10-day journey completely by land and sea. I'm afraid I forgot the name of our excellent host in London but he was efficient and thoughtful.

The logistics and organization behind the scenes were superb too. The devil is the details and so is heaven: They got the museum in Cobh to open just for the six of us on a public holiday. On the trains, we always got eight seats for two of us plus a host. The itinerary was sensitively planned and took into account that we would appreciate some rest every now and then after dragging our luggage all over Ireland. Even when the "group" consisted of just two of us, a host was always there to accompany us.

But don't expect all the hosts to have doctorate-level technical details of history, geology, theology, etc the same way that guides on the Egyptian Nile River have PhDs in Egyptology. It wouldn't be fair to expect that of every Railtours host. Having said that, I came away knowing much more about the etymology of English terms and words, Irish and European history, etc than I asked for.

On numerous occasions, we joined non-Railtours groups probably because there were just two of us… it was January and gorgeously clear and sunny but winter nonetheless. Much of the time, these external programs were well-selected. We particularly enjoyed Martin's rich commentaries on Connemara and Kylemore Abbey, and Mark's fabulously hilarious journey to the Giants Causeway. At the end of the two trips, both gentlemen ensured that we got to the train station punctually to avoid a three-hour wait for the next train. No mean feat when the groups had 30-40 people, and I suspect that our Railtours hosts influenced the effort. Well done.

This is the first time my sister or I have ever joined a group; they tend to be unappealing. But Railtours made the group format surprisingly enjoyable, personalized and sufficiently immersive for an introductory visit. The "first class" in Railtours Ireland Frist Class is apt!
Visited January 2017
"Really a First Class Tour"
"Exceptional 6-day first class Rail Tour Ireland"
The tour covers all the beautiful parts of Ireland, the hotels were first class and exceptionally well located. The tour guide, Jonathan Beaumont, was excellent, providing us with all the history and highlights of each place and keeping the group together. He was very knowledgeable and entertaining and we highly recommend him and the tour. The organization was superb, and there was always a Railtour staff at hand, at the train stations or coordinating with the buses. Really a First Class Tour.
Visited September 2016
"We LOVE Ireland!"
Reviewed 4 weeks ago
We took the DH36 Blarney Castle, Ring of Kerry and Cliffs of Moher three day tour. It was fantastic. Our guide was fabulous and knew all about Ireland and how to answer all of our questions. We especially loved visiting Cork, the Blarney Castle, and the picturesque villages around the Ring of Kerry. We would love to come back and visit Ireland for longer. This was the perfect tour for us to see so much of Ireland in a short time. Our guide gave us wonderful dinner recommendations and recommended the Celtic Steps show which we loved. Everyone on our tour was also lovely. Would highly recommend this tour and we would do it again. It was a great value.
"Travel on a proper heritage train"
Had a really special experience on the Emerald Isle Express week long tour. Saw so much of this lovely country with the pleasure of travel on a proper heritage train and luxury overnight stays. All staff on the tour were fantastic and gave us a real Irish welcome. The added value of Jonathan and Norman's knowledge of railway and general Irish history was unexpected and helped to make the holiday. Quite a hectic schedule at times but the only way to pack everything in to the week. Thoroughly recommended!
Visited September 2016