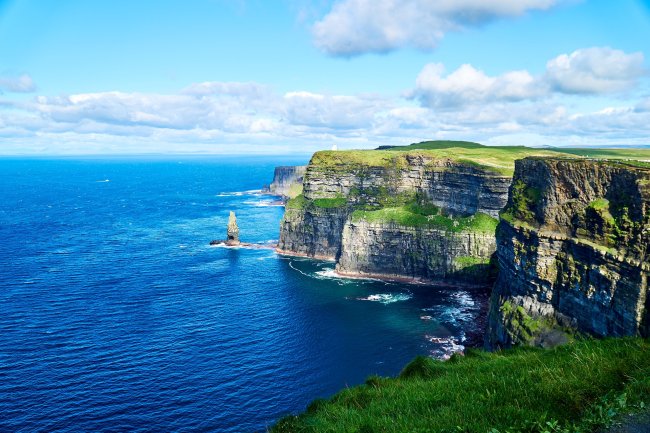 A family of three from Sweden, and we all had a really nice time. The guide, Brian educated us with his extensive knowledge, as well as entertained us with his humor. I can highly recommend a tour.
"Wonderful Train and Coach Tour of Ireland"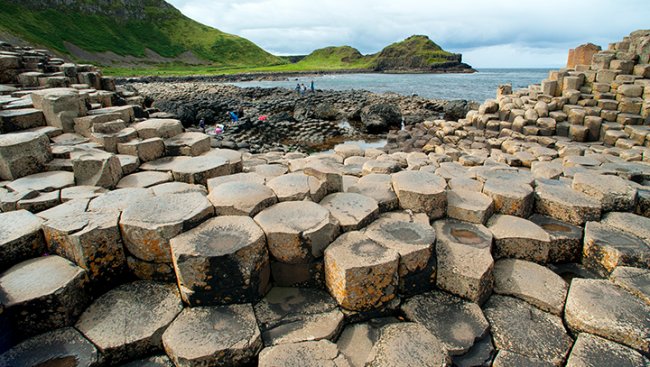 This trip was over a year in planning due to Covid. Fiona and Mervyn were very helpful as the tours and dates available were constantly changing. We finally were able to book the All Ireland Rail Tour from Dublin and the Two Day trip to Belfast from Dublin. I recommend arriving several days ahead of your scheduled tour to spend time in Dublin and recover from jet lag if you are traveling from the States. All of the guides were very helpful and knowledgeable. Michael was my favorite! The hotels and the food at the various pubs was excellent! What a wonderful way to see as much of Ireland as possible in a limited amount of time.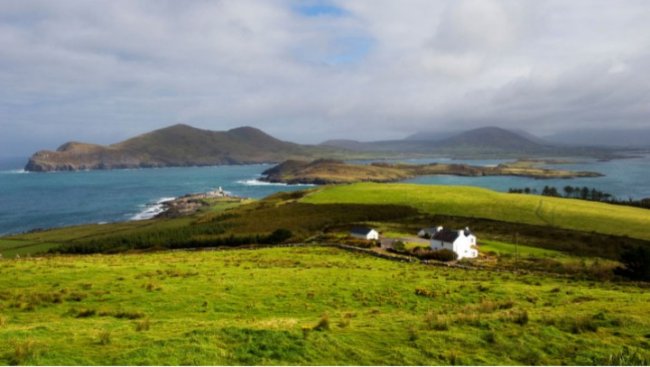 Highly Recommended! Our starting guide John(volunteer) was really informative and quite passionate about his work. He had a lot of stories to tell and the train ride was fun! Our bus guide Batt in the ring of Kerry was too good and really fun. There were singing songs and all kinds of stories. It was one of the most fun experiences I've had in a very long time! If you are looking to visit Kerry and are short on time this tour is very highly recommended!
As a party of four, we have just had an amazing 3 night 4-day experience on the Emerald Pullman First Class Train Trip.

The journey took in many of Ireland's most scenic & spectacular locations including Waterford Crystal, Killarney, The Ring of Kerry, Cliffs of Moher & Galway Bay to name just a few .. We experienced first-class service from the time we left Connolly Station. The whole experience was completely relaxing and hassle-free as everything was organised for us every step of the way, from the lovely hotels we stayed into the wonderful tours of our beautiful country.
Would highly recommend Railtours Ireland if planning a staycation and a huge thanks & appreciation to Jim Deegan and his very professional team for a great holiday in Ireland.
"Some Beautiful Artwork from a Happy Traveller!"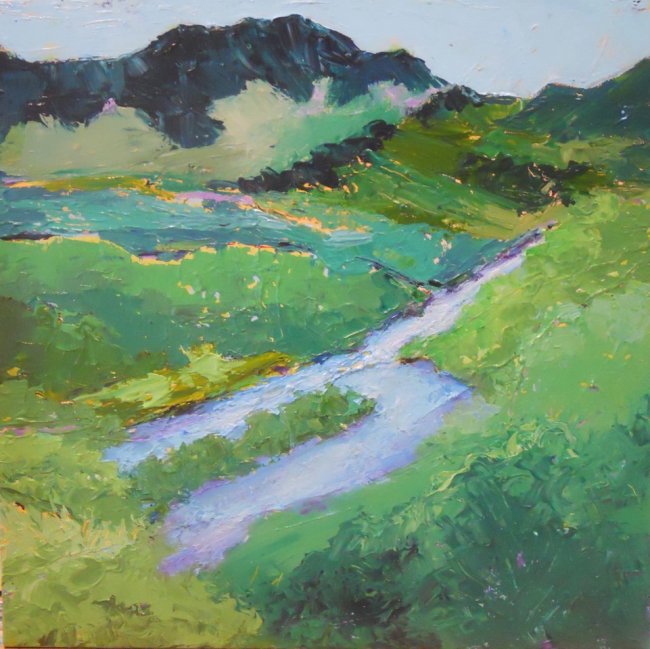 My husband and I had a wonderful adventure throughout Ireland on your six-day rail tour last year. I took a shot of this hillside in County Kerry on our travels.
I am an artist (and gallery partner) and have had a lot of time on my hands lately…so I (hopefully) put my talents to good use.
Enjoy!
"Excellent, well-paced tour!"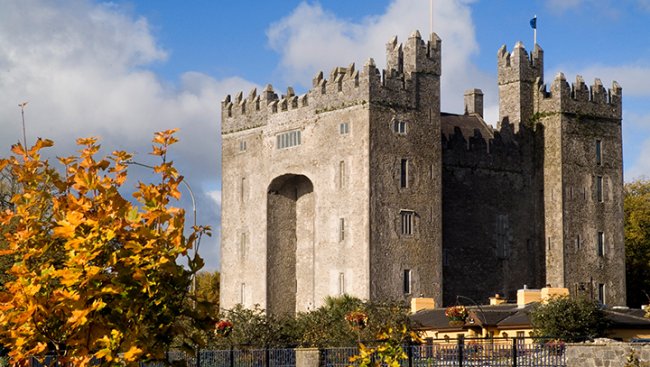 I am traveling with my parents who are 70+ years old and decided to take them on a rail tour since many buses don't have restrooms. I'm so glad I paid the additional cost for rail instead of the bus! While it was an early start (07:00 departure) the train ride was quite comfortable and the directions to check in were very clear. One thing to note is that breakfast isn't really available on the train. The cafe car is quite busy so unless you make a reservation ahead of time, the only thing available is the cart that goes up and down the train aisles that offers a very modest selection of pre-packaged baked goods, coffee, tea, and sandwiches. The Heuston train station itself has a decent selection of coffee/tea, deli, and a fast food place where you can purchase food ahead of time if you don't have breakfast included in your tour package.

Onto the tour! Our tour guide, David, was very knowledgeable and attentive throughout the entire day, which was quite long since we returned to Dublin at the end of the tour. It was well paced with a great lead-up to the headliner, the Cliffs of Moher. Bunratty Castle was a delightful surprise with an entire medieval village on its campus. The castle itself was quite impressive on the inside and the quick tour we're given provides great context before you're given time to explore.

Then there's the ride up the coast to Galway. We visited in the middle of January when the sun goes down around 16:45 so we had a nice view for the beginning of the ride and a dusk view (which certainly wasn't bad) for the remainder. There were opportunities to quickly hop off of the bus for photo opps at scenic points along the way.

Overall, it was a wonderful experience. I highly recommend this tour!
"The sights were amazing!"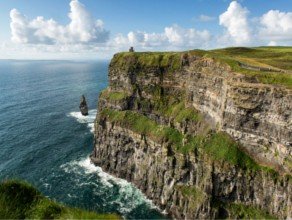 Our group of 10 had an incredible experience on this train tour with our guide, Jonathan. He was knowledgeable and entertaining. The sights were amazing! The fog lifted just enough for us to see the Cliff of Moher in all its glory. As well, our family loved the Burren and Bunratty Castle. I recommend this tour, and Jonathan, highly.
" I would recommend this tour hands down!"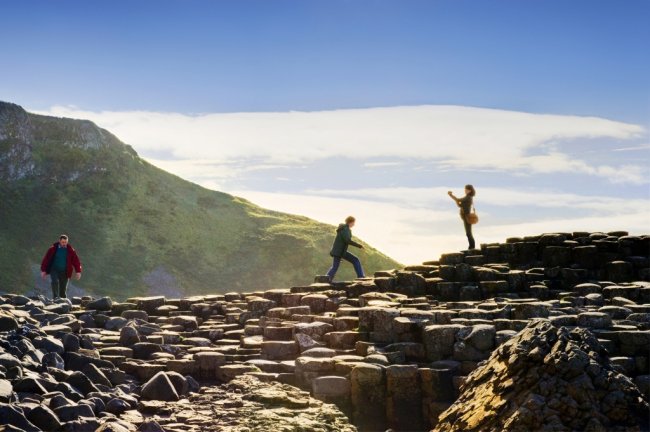 My friend and I had a great experience on this tour. Everyone we worked with was very helpful and friendly. Our bus driver Patrick was totally great, and the folks at the Railtours were also great! We did this tour upon arriving in Ireland and I was nice to know we didn't have to plan or do much more than just show up on time. Hotel accommodations were great as well. I would recommend this tour hands down!
"I cannot say enough great things about Railtours"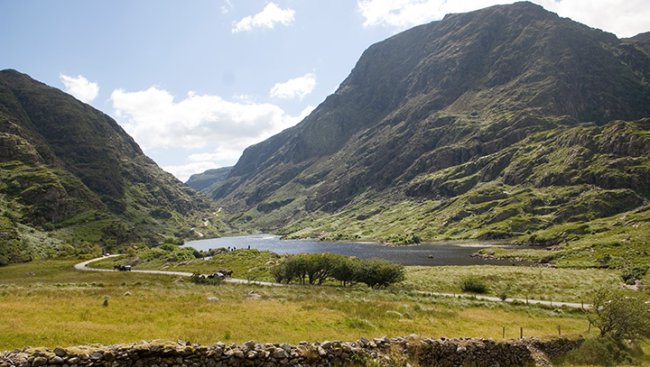 3 Day Cork City,Blarney, Ring of Kerry and Cliffs of Moher tour
My husband and I were making our first trip to Ireland and wanted to see the most popular sites in the shortest period of time. Railtours of Ireland seemed to fit with multi day tours via train as well as coach. From the first phone call to book the tour,to the final day, I cannot say enough great things about Railtours. We arrived in Dublin on Wed and were given a complementary Hop on/Off bus ticket allowing us to see the Dublin sights.The following day we were met at the train station by David our tour guide who handed us our travel information and accompanied us on our 1st days journey to the Blarney Castle .The seats on the train were reserved and David spent the time getting to know each person on the trip.By the time we arrived in Cork, we felt like we were friends. The rest of the group had done the tour as a day trip so at the end of the day David was returning with them to Dublin. We however, were heading to Killarney to pick up the Ring of Kerry tour the following day. If I had reviewed the trip at this point it would have been 5*****, with David being an amazing historian and guide.I had no idea that it was just the beginning of great things to come.
As were nearing the end of the day, David informed us that when we got to the train station we would be met by a woman named Margaret, who also worked for the company. She would be responsible for coordinating our trip the remainder of the way to Killarney. We met Margaret who was as wonderful as David.Again we had reserved seats on the train. She facilitated our transfer from one train to another and came with maps of Killarney and several recommendations for shops and restaurants for our two night stay there. On arrival to Killarney station we were handed off to Dennis who drove us to the hotel and got us settled. We truly felt like VIP's having a "handler" assuring that everything went smoothly.The following day we walked around the corner from the hotel and met up with The tour group going to Ring of Kerry.Ray was the outstanding tour guide, and we returned to our hotel with some great knowledge and pictures. The final day was the Cliffs of Mohar tour meeting up with David again coming from Dublin. Their driver, Batt ,picked us up at our hotel and provided car service to the meeting point an hour away. He waited with us until the coach arrived assuring that we were in the hands of Railtours before departing. Once again we had a great day with David with lots of amazing photos of the cliffs. We hope to bring our family with us next time and without a doubt will utilize This company for the group. The combination of sights and fantastic people of Railtours showed us the true beauty of Ireland
BOOK THIS GREAT TOUR HERE
My mom and sisters and I went on this over Christmas break and it was awesome.
We had Terry as our guide and he was the absolute best. We did everything we expected to do on the tour and more. If he is able to let you see something cool and the bus is on time then he will do it. Terry took care of everything and called the restaurant ahead of time at Cliffs of Moher so our food was out quickly and then we got to go to the cool chocolate shop. The tour itself was amazing and the views were incredible. We had enough time to look at everything plus more to walk around and shop as well. Terry gave us recommendations and then let us go do our own thing if we wanted. We loved his little intro and tours he gave because they were very informative but then we got to go look around on our own too. The end of the tour we did a toast on the train and it was so cool! We love Ireland and our awesome tour guide Terry! We hope to return again soon.