So glad we did this! David was our tour guide, and definitely a true joy. It is not only a cool way to see the country, but it packs a TON in. We definitely know if we come back, where else we'd want to spend more time. To top it off, we loved being in Galway in November—tons of Christmas events and just a cute little town.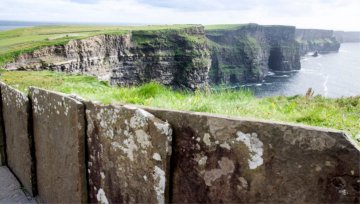 Bunratty, Galway, Cliffs of Moher - AMAZING!
This day trip was truly wonderful. We had the most amazing guide, John Todd, who made the day so memorable. John made sure we were well-informed about all of the sights we were seeing, as well as making it so much fun. While I think the trip would have been special no matter what, John was really the cherry on top! This tour definitely exceeded my expectations and was one of my favorite parts of my trip to Ireland.
"Highly recommend this trip"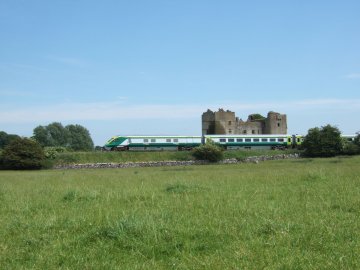 Well organized and a great day
TripAdvisor review: Railtours Ireland First Class - Day Tours
We did the one day trip by rail to/from the Cliffs of Moher with Bunratty castle and a couple other stops along the way. Overall the day was very pleasant and a great time.
Our guide was John Todd, and he was just spectacular. We thoroughly enjoyed his commentary throughout the day and chatting with him on the train back to Dublin.
The Bunratty Castle and grounds were nice. After being in Dublin and miles of concrete for a few days, being in the green of this site was very appealing. It was quite cool in the morning and the grounds and castle were quiet, it was perfect.
onto lunch and a great pub in Dooling and then onto the cliffs, they were amazing and not crowded.
Meeting John in his yellow jacket at the train station was easy, the ticketing and overall instructions throughout the day were very good. We've been on many guided tours and this was a well thought out and easily navigated day. I think our group of 13 did a good job of staying on time, which helps.
I would highly recommend this trip and I would hope you are lucky enough to get John Todd as your guide.
View our Cliffs of Moher, Bunratty Castle, Burren & Galway Bay tour HERE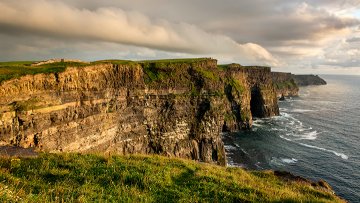 Had an excellent guide(Peter MacDonald) for the day. Left Dublin Train Station at 7:00 am and returned just before 10:00 pm. A full day of beautiful Ireland scenery and history with lunch at a wonderful Irish pub in Doolin and dinner on our own in Galway. Absolutely wonderful.
"Hats of to the team in bright yellow: Railtours Ireland!"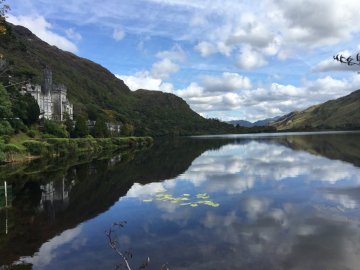 Enlightening Emerald Island Tour
We took the 6 day tour which took us to the Killarney area, Galway, and Northern Ireland. We visited Blarney and Bunratty Castles, Ring of Kerry, Connemara, a Folk park, the Cliffs of Moher, the Burren, St. Colman's Cathedral and the Heritage Center at Cobh, Kylemore Abbey, Carrick-a-Rede rope bridge and Giant's Causeway. Due to the remnants of Hurricane Lorenzo, our day trip to Inis Mor in the Aran islands was canceled. John Scott provided history as we Cork and Cobh the first day, helping us get oriented to his country. Jonathan Beaumont was our guide for the remainder of the trip. He has an excellent command of Ireland's history, an appreciation for the connection created through music, a talent for sharing the legends and folklore. He interjects all this with " myths" about Ireland and a sense of humor with his jokes. All of this was well- balanced to keep our interest. On our Aran Island canceled tour day, he offered to come up with other activities. I thoroughly enjoyed him as a guide. The country is about the vibrant green pastures with sheep, the folklore, the music, the excellent pub food. Traveling long distance by train, then having two days to tour the area was nice. I felt we had ample time to explore each area....and see as much as we could of this country. Hats of to the team in bright yellow: Railtours Ireland!
"We have no regrets that we booked with Railtours"
The Royal Atlantic Tour
The latter part of September, my husband and I toured with Railtours, 3 nights in Dublin and from there Cork, Killarney, Ring of Kerry, Cliffs of Moher, Connemara, Galway, and the Aran Island. We were impressed with most of the trip. The day before the flight, we got a call from Jonathan to confirm our tour and to assure us that a representative would be waiting for us upon arrival at the airport. Even though our flight arrived early, we were greeted by representative named Paddy, a very nice courteous man holding a sign with our names on it. We were transported to the North Star Hotel, our luggage taken to the front check-in desk and from there, we got checked in quickly. Our time in Dublin for those three days was self directed using the Hop on Hop Off bus around Dublin. It was a nice way to get around Dublin, learning history of the area and enjoying the Irish humor by a few of the bus drivers. Saturday morning at approximately 6:30AM, we arrived at Dublin Heuston station and greeted by Jonathan wearing his bright yellow vest. All was organized, and the train departed promptly to begin the Royal Atlantic Tour. It was Saturday morning so we missed out on the usual free breakfast on the train. The coffee on the train was the most expensive cup of coffee that we had throughout our stay in Ireland. It was nice having reserved seats on the train and that's when we got to meet our tour guide David. David conducted the first 3 days of our tour. He was excellent with a great knowledge of history. Many other people taking tours got on at Heuston station, getting off at various locations to begin their particular tours. All the hotels were good, especially the Great Southern Killarney. We have no regrets that we booked with Railtours. The bus drivers, guides were all very pleasant.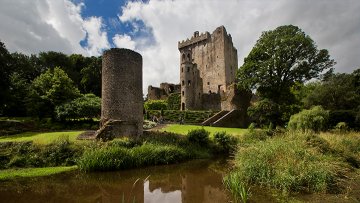 Hello
I would like to thank you for giving fabulous experience to my parents of rail tourism.
My parents were on your blarney castle and cork rail tour this summer and they were super happy with the tour arrangements.
Back in India my father wrote an article in Marathi ( my mother tongue)about your tour and it was published in news paper. He got overwhelming response from readers of this news paper.
I'm sure people who read this article if at any time happen to visit Ireland they will opt your blarney tour over any other tour.
Regards
Shilpa
"A great way to see Ireland"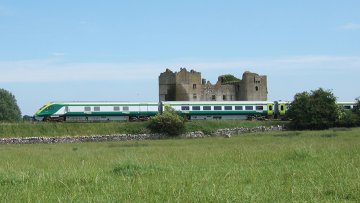 We really enjoyed this tour everything was on schedule. Such beautiful scenery a great way to see Ireland and learn a lot about their history. The hotel in Kilarny was beautiful. Our tour guide Brian was the absolute best he made the tour so much fun made us laugh all the time and the gang of people we were with were also great. Awesome memories. We will be back. Thank you so much from Canada
"They really made the trip great"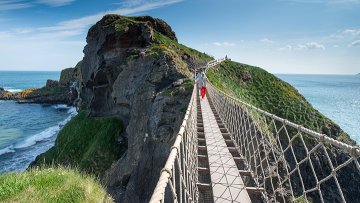 This was a fantastic trip. Everything was well organised and on schedule. Our railtours guide Peter was great as was Paul who was our driver and guide in Northern Ireland (Mc Comb's). They really made the trip great - it was the best day trip we had (out of 4). Will definitely use railtours ireland again.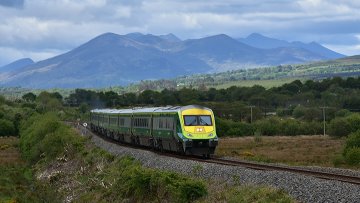 Our guide Andy Geraghty was great. He was knowledgeable, fun and very responsive to our needs. He made sure we had a great time and we're on time and helped out with accommodations and admissions to the sights.