Travel along East Coast
Tour DC08
Wicklow, Avoca (Ballykissangel) and Glendalough
Glendalough - the valley of two lakes
1 Day
$79pps
From price is based on 1 adult sharing.
Depart:
09:40 Dublin Connolly Station (Mon-Fri) Sunday Departure: 10:25
Return:
16:45 Dublin Connolly Station (Mon-Fri) Sunday Return: 17:15
Departs:

Jan - Dec
Mon
Tue
Wed
Thu
Fri
Sat
Sun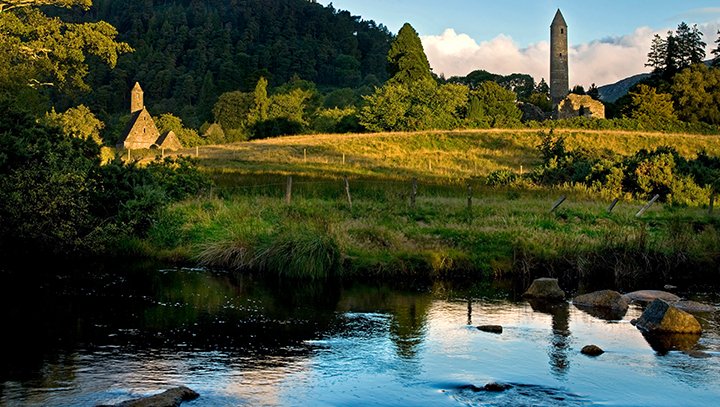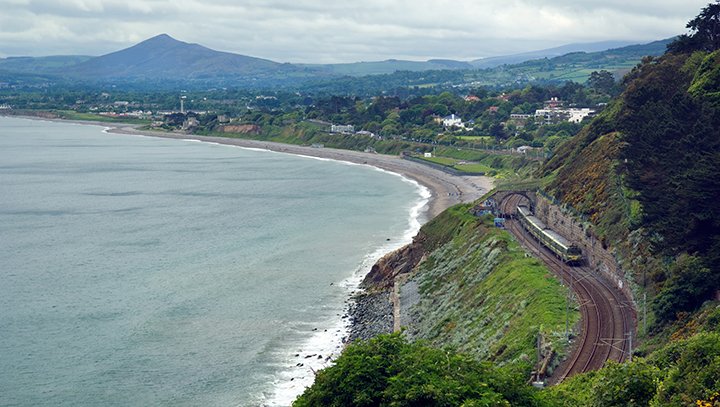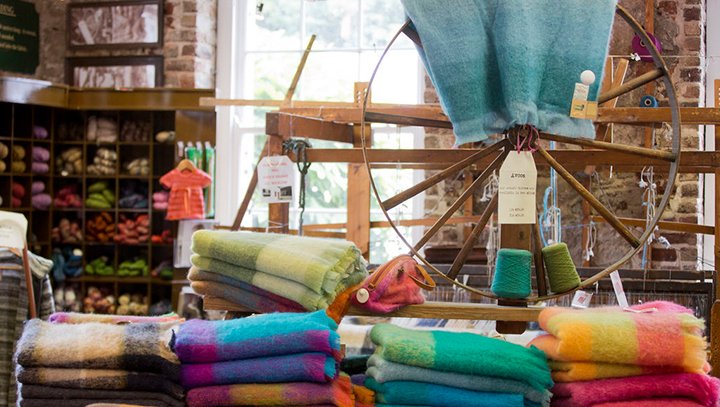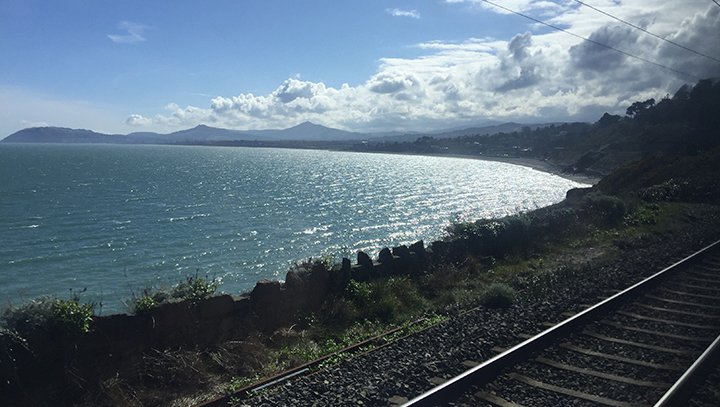 IDEAL FOR CRUISE PASSENGERS
What's included?
All Rail Travel
Reserved Seats on the train
Railtours Ireland Host throughout
Visitor Attraction Admissions
Escorted Coach
Free return trip transfers from Cruise Terminal to Railway Station (Monday-Friday, excluding Sunday departure)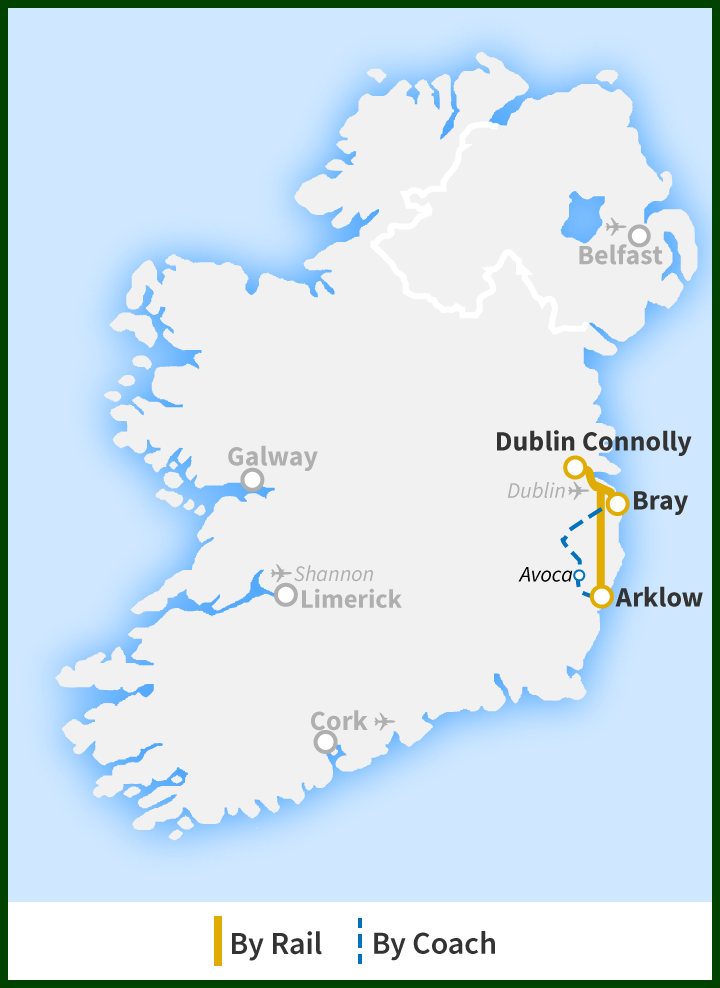 Overview & Map
Travel along East Coast
We are delighted to announce the NEW Sunday departure of our Wicklow Tour.
Sunday departure time 10:25, arriving back to Dublin at 17:15pm approximately.
Check-in for this Sunday departure - 10:05am
Enjoy a spectacular rail journey along Dublin's East Coast to Arklow, Wicklow - part of Ireland's Ancient East. Travel from Dublin where Killiney bay & beach unfold in front of you. The train follows the coast and hugs the cliff edge as we make our way to Arklow. This tour visits the village of Avoca, known as 'Ballykissangel' and Avoca Handweavers, the oldest working woollen mill. Treat yourself to vibrant coloured handcrafts. The tour finishes with a trip to the 12th Century Monastic settlement of Glendalough, nestled in the valley of the two lakes, before returning to Dublin by coach.
IF YOU ARE JOINING THE TOUR FROM A CRUISE SHIP, THE COACH DEPARTS AT 08:45AM FROM THE CRUISE SHIP.​ LOOK OUT FOR THE RAILTOURS IRELAND HOST IN THE YELLOW JACKETS. (Available Monday-Friday, excl. Sunday)
PLEASE INFORM US IF YOU REQUIRE THE TRANSFER FROM THE CRUISE TERMINAL
Full Itinerary
Full Day Tour:
Dublin to Wicklow
hide
Check-in is 20 minutes prior to Train Departure Time.
Check-in at Connolly Station in the main concourse area at our Railtours Ireland kiosk, where our representative will be in their bright yellow jacket!
Monday-Friday: Check-in for the 09:40 departure from Dublin Connolly Station to Arklow is at 09:20.
Sunday: The departure time is slightly later - leaving at 10:25. Therefore, Sunday check in time is 10:05am in Connolly station.
Enjoy an elevated view of Dublin City and its architecture as the train travels south from Dublin Connolly station towards Arklow, Co. Wicklow. Regarded as one of the one most stunning train routes in Ireland the train journey hugs the coastline as it travels towards Bray and Greystones along the coast and cliff edge. From Arklow, the tour continues by coach onto Avoca Handweavers for a personal tour of the oldest working woollen mill, since 1723. Our lunch stop is at a local pub, Fitzgeralds of Avoca, which serves up hearty Irish pub fare. Avoca is sometimes known as Ballykissangel, where the successful BBC television series of the same name was filmed. Our next stop is Glendalough, a 12th century monastic settlement. We take you to the Upper Lake of Glendalough - this was the original site of the monastic settlement, and features Reefert Church, Temple-na-Skellig, St. Kevin's Cell, St. Kevin's Bed, the Caher, and various crosses. We then walk back along the boardwalk to the Monastic City where you can see ruins of churches, a graveyard and the famous Round Tower. The tour then continues through the stunning landscape of Wicklow before your return journey to Dublin.
Monday-Friday: We arrive back to Dublin at approximately 17:00pm.
Sunday: We arrive back to Dublin at approximately 17:15pm.
Take a look at this Ireland tours extension for all travelling from London