The Grand Atlantic
Visit Blarney Castle, the Ring of Kerry, the Cliffs of Moher and Connemara on this 4-day tour.
FREE Upgrade in Killarney from B&B Guesthouse to 4* Hotel (subject to availability in our partner hotels).
FREE 48hr Dublin Bus Hop-on-Hop-off City Sightseeing Tour tickets.
Cover a large portion of the Wild Atlantic Way on this 4-day tour to the South, Southwest and West of Ireland.
A truly unique opportunity to visit our great Southern and Western coastal regions, with fabulous seascapes and mountain scenery.
This tour visits Ireland's premier tourist destinations, such as Cork, Cóbh, Blarney Castle, the Ring of Kerry, Bunratty Castle, the Cliffs of Moher, Galway Bay and Connemara.
This tour takes in part of the Wild Atlantic Way and includes 2 nights accommodation in Killarney and 1 night in Galway.
WHAT'S INCLUDED?
Return Rail Tickets.
Reserved Seats on the train.
Railtours Ireland Host throughout.
Visitor Attraction Admissions.
Escorted Coach.
2 Nights Killarney B+B with Free Upgrade to 4* Hotel.
1 Night Galway 3*/4* Hotel.
View Full Inclusion & FREE Upgrades
The Grand Atlantic - TOUR CODE:DH37
From price is based on 1 adult sharing.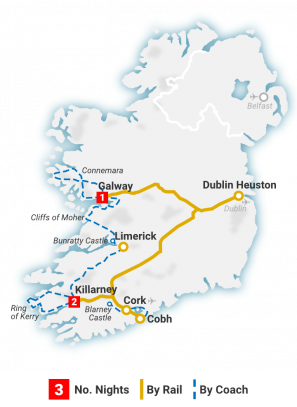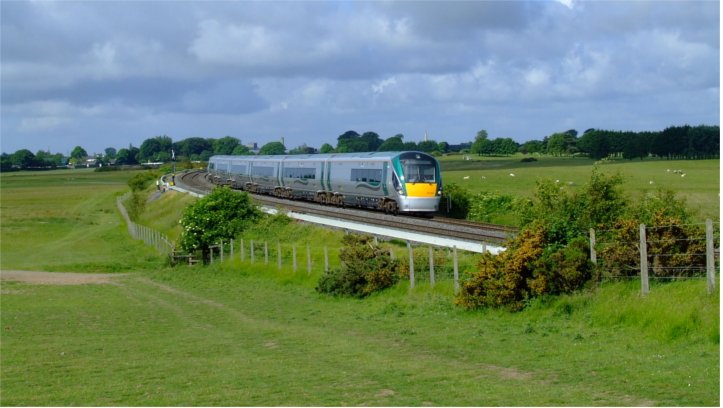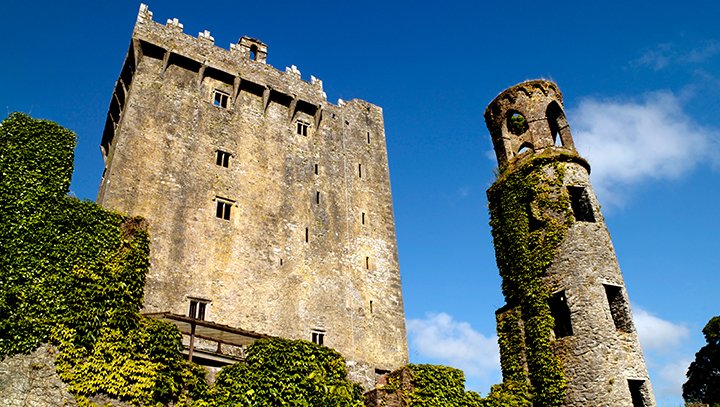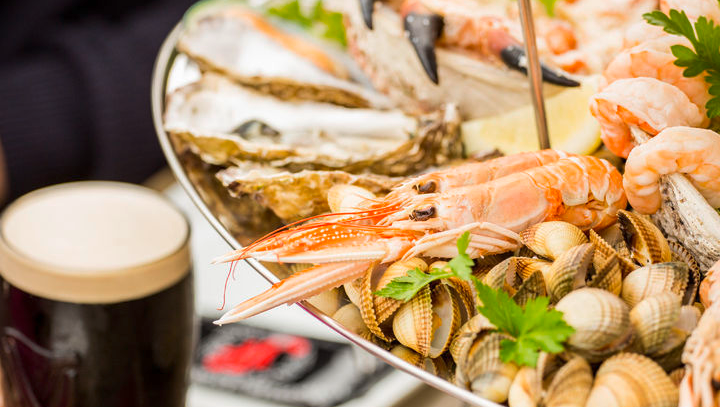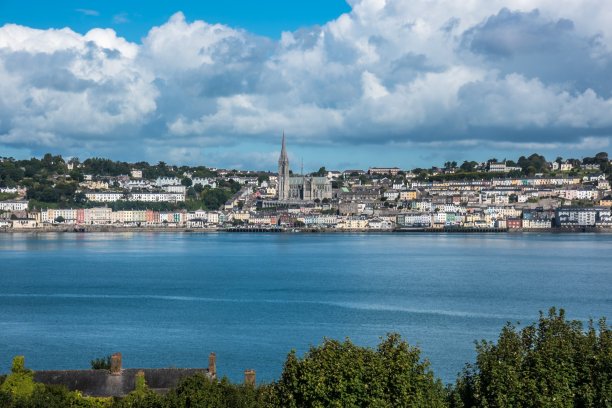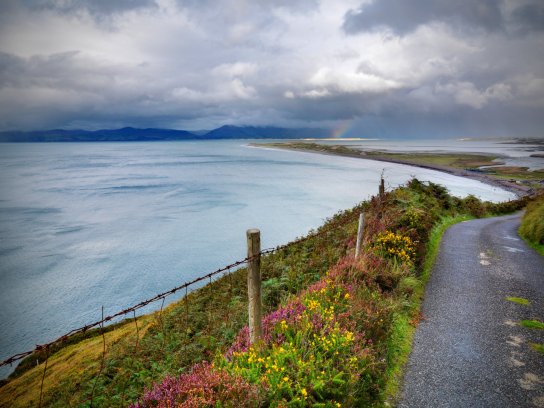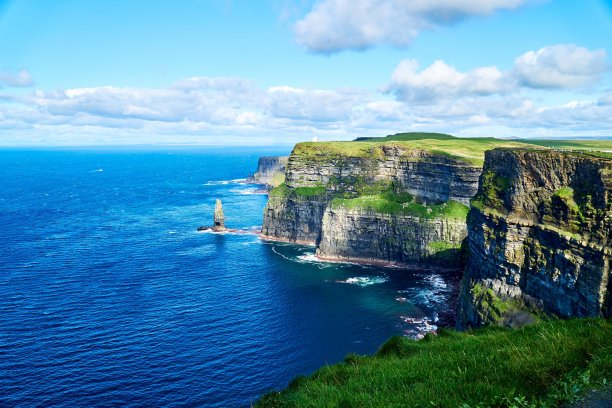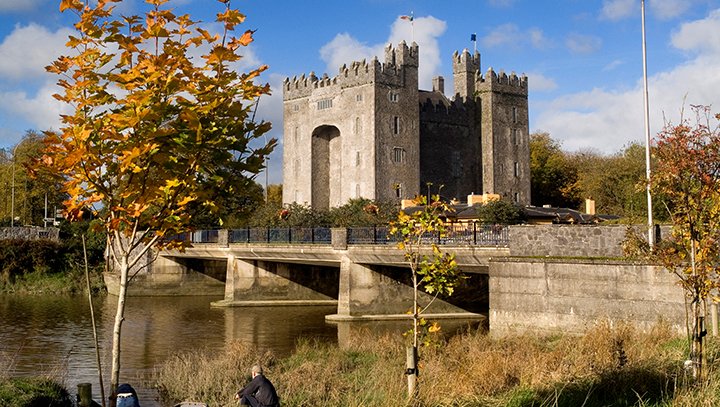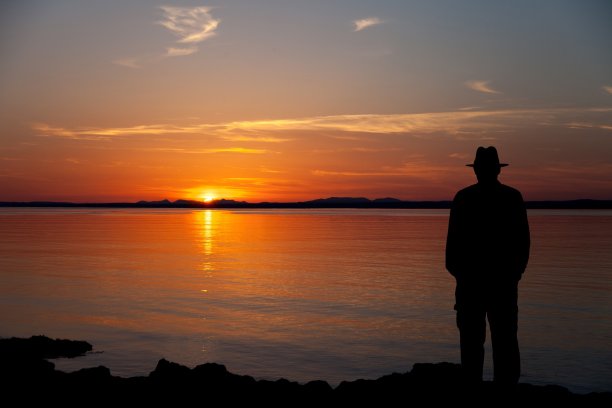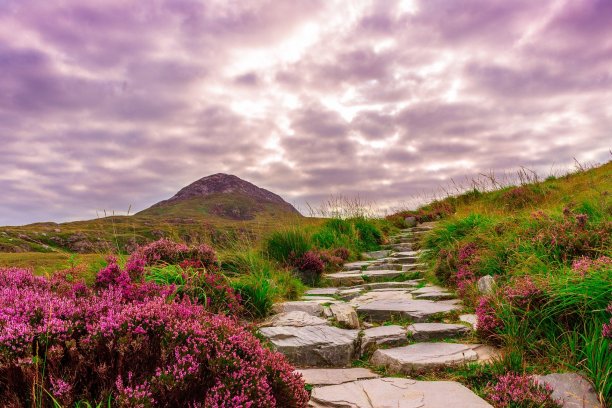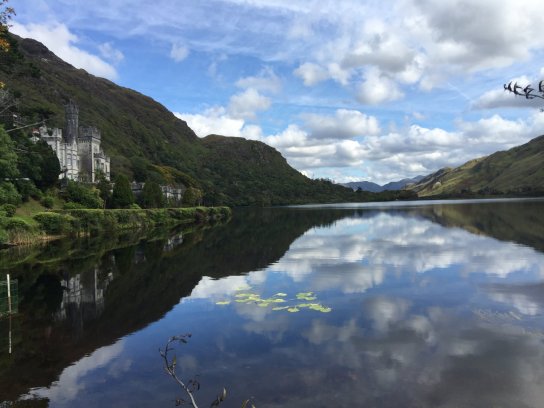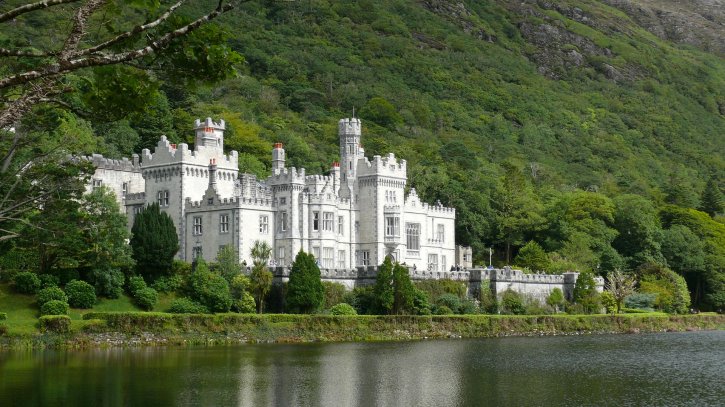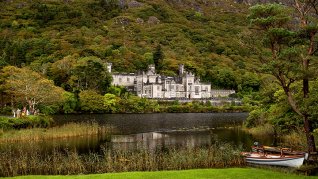 My wife and I are spending 10 days in Ireland. We spent 3 days in Dublin before doing the 4-day "Railtours Ireland" tour. The rail tour was definitely the highlight. There were families with children, elderly couples, and honeymooners on the tour— all of whom enjoyed it.

We were lucky enough to be with Jonathan B for the full 4 days and we enjoyed every minute. He gave so much history in an easy-to-understand fashion. He debunked popular myths about Ireland. He told us stories about traditional legends and folklore. He was very funny, very personable, and very friendly. He kept everyone engaged, even when the group was large on the Cliffs of Moher day. He was beyond helpful as well, pointing out exactly where everyone needed to go, giving suggestions for authentic foods/souvenirs, and even surprising the group with some extra stops and activities.

The areas we visited were all amazing. My wife and I would look at each other after every day and say, "I am so glad we did this tour." Any of the day trips will be worth your while, but we found the 4-day tour the best option. Breakfasts are available at the B&Bs and hotels and the accommodation is included.

We would recommend this tour (and Jonathan) to anyone wishing to fall in love with Ireland.
"Railtours Ireland was truly first class"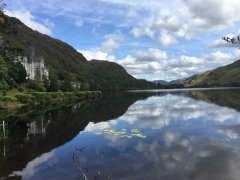 We had a wonderful tour to the South and West of Ireland. Peter C was great on the South and Peter McDonnell was fantastic on the West trip. Very knowledgeable and friendly with a few passable jokes thrown in by Peter M. Great hotels and very clear instructions to keep us on track. We toured for 4 days but some people joined the tours for a day or two. They kept us all organized. It was amazing. Great way to hit all the highlights and see some off the beaten path experiences...loved the sheep dog exhibition. Highly recommend Railtours Ireland.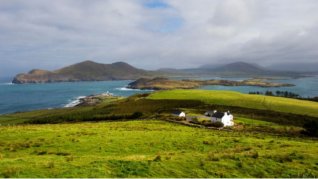 While in Ireland we went on a 4 day tour from Dublin to Cork to Killarney to Gallway and the back to Dublin. Jonathan took us through our first three days and he was phoenominal! He was so knowledgable about everything we saw, planned special stops for us while going through the Ring of Kerry, invited us to Celtic Steps (an wonderful Irish song and dance show in Killarney), had dinner with us, and made us feel so welcome. He made the trip exciting and so fun! This experience is NOT to be missed!
"Would definitely recommend this tour."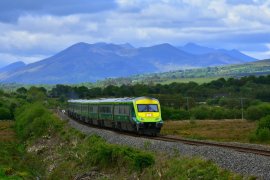 Had a fantastic time with rail tours Ireland. Andy was our tour guide. He was terrific. He really cares about the interests of all of the people in the group. He gave great tours and entertained us as well on the bus. Andy made extra stops and surprised us with an excellent sheepdog demonstration. In Killarney Andy suggested a really excellent show for us. He actually went with is to the show in the evening just to make sure we got in ok and had great seats. We never felt rushed on the tour. We saw so many beautiful sights and had many opportunities for great pictures. Would definitely recommend this tour.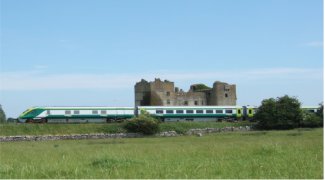 We did the Grand Atlantic Tour and it was amazing -- worth every penny! This was our first trip to Ireland and the perfect way to the the "best of" Ireland! I would highly recommend this tour to anyone going to Ireland. Makes it so easy to get around, well organized and you are allotted free time so there is plenty of time to do all the guided parts and your own thing! We had ANDY as our tour guide for the majority of the trip and then MICHAEL as our guide/bus driver for the days in Galway. And I cannot give enough praise for these two!! Absolutely they made the tour what it was -- incredible!! Andy's songs were a delight! And Michael's knowledge was brilliant. Both men were so kind and helpful. It was a pleasure meeting them.
"The staff was helpful & always there in their yellow jackets. "
Mar 2016 by MILESFROMMISS
We wanted our week in Ireland to have some structure but not an organized tour where we were forced to follow the umbrella and limited time at the stops. This was perfect. We took the Grand Atlantic Tour, but they had so many options to fit anyone's interests/time. The staff was helpful--and always there in their yellow jackets. We loved their spirit to serve and take care our needs. Norman, Margaret, Brandon , Bob and all were so wonderful and funny! There was just enough time and commentary at every stop. The hotels along the way we're perfect, including breakfast each morning. We liked the flexibility of being on our own for lunch during the tour & dinner in town after we checked into the hotel. They were responsive during my pre-booking time, answering the 800# and emails in a timely fashion. They left me with no questions or anxiety for this vacation. I was definite thrilled to leave the "driving" to them so we could enjoy & relax and not to get nervous reading a map!
"Irish Railtours Great Atlantic Tour"
Aug 2015 by Linda, Massachusettes
We were a family group of six and we took a four-day Great Atlantic tour with Irish Railtours in July 2015. We couldn't have been more pleased. We had stops in Cork, the Blarney Castle, Cobh, Killarney, the Ring of Kerry, Bunratty Castle, the Cliffs of Moher, the Burren, Galway, and the countryside of Connemara, as well as two two-night stays in Killarney and Galway. We felt that we really got to see a lot of Ireland and we had a wonderful tour guide, Peter White, who made our trip even more special. It was also nice that the weather cooperated. We also had Irish Railtours handle our return leg to Dublin, with a two-night stay at the Spencer Hotel and the Hop on Hop off Bus for two days. I would highly recommend Irish Railtours, a great experience and a good value.
"Our four day tour was a blast. Everything was organized perfectly."
Jun 2015 by Todd & Stephanie
Our four day tour was a blast. We agree with the majority of the reviews regarding the excellent service. Everything was organized perfectly. Our tour guide for the first three days was Jonathon Beaumont. Just as others have said, he is extremely knowledgable and a lot of fun to be around. He made everyone feel special. His stories about the history of Ireland were great. We would never tire of hearing them. When on a tour such as this, what you hear is just as important as what you see. We will always remember the history of the Irish famine. Please consider Railtours Ireland if you ever visit Ireland. What a wonderful and extremely beautiful country.
"Absolutely fantastic service for the whole trip"
Absolutely fantastic service for the whole trip-right from being met at the airport by the man in a yellow jacket! I could not fault any part of the service. One of the hosts is always making sure that I knew where to be next
Link to Reviews Section
Visitor Attraction Admissions Included: Blarney Castle and Gardens, Cóbh Heritage Centre, Cliffs of Moher Visitor Centre, Experience, Bunratty Castle & Folk Park, Kylemore Abbey & Walled Victorian Gardens.
Return Rail Tickets.
Reserved Seats on the train.
Railtours Ireland Host throughout.
Visitor Attraction Admissions.
Escorted Coach.
2 Nights Killarney B+B with Free Upgrade to 4* Hotel.
1 Night Galway 3*/4* Hotel.
BOOK DIRECT TO ENJOY FREE UPGRADES: UPGRADE TO A 4* HOTEL (FROM KILLARNEY B&B), & 48HR HOP-ON-HOP-OFF DUBLIN CITY SIGHTSEEING TOUR TICKETS.
Cork, Blarney Castle and Cóbh
FREE UPGRADE TO 4* HOTEL IN KILLARNEY, SUBJECT TO AVAILABILITY IN OUR PARTNER HOTELS AT THE TIME OF BOOKING.
---
Check-in is 20 minutes prior to Train Departure Time.
Check-in beside the Customer Service Desk at Heuston Station where our representative will be waiting for you in their bright yellow jacket!
Check-in for 07:00 departure from Dublin Heuston Station.
Your departure station, Dublin Heuston, was opened in 1844 as the headquarters of the Great Southern & Western Railway and is now the official principal station of Iarnród Éireann – Ireland's national railway company.
As your train departs, we travel in a south westerly direction, passing Inchicore, railway engineering works and then some of Dublin's western suburbs – soon we are in the lush fertile countryside of County Kildare, Ireland's Kentucky. Look out for the many stud farms near the track. The train passes through the town of Newbridge, home to the famous Newbridge Silverware.
We now enter the Curragh of Kildare, which soon comes into view on both sides of the line. The Curragh (pronounced: Curra) is famous for its racecourse, home of the Irish Derby. At this time of the morning you are likely to see some of Ireland's finest bloodstock being put through their paces. The Curragh is also the headquarters of the Irish army and their buildings can be seen in the distance to the east.
We pass the town of Kildare, and the Church of Ireland (Protestant) Cathedral of St. Brigid's – completed in 1223 – can be clearly seen to the south (left hand side when facing direction of travel). We cross the River Barrow at Monesterevin and enter Co. Laois.
Our train journey makes a stop at Portlaoise (pronounced: Port Leesh-eh). Departing Portlaoise, we soon enter Co. Tipperary and pass the town of Templemore. Shortly after, we pass Loughmoe Castle which can be clearly seen on the southern side of the train, built in the 15th century, the Purcell family lived there until 1760. The next stop is at the town of Thurles. At our next stop – Limerick Junction – a number of Railtours Ireland clients will be leaving the train for the Cliffs of Moher tour. Please remain on the train for the Cork, Blarney Castle and Cobh Heritage Day Tour! Our final stop before Cork is at the town of Mallow.
We arrive into Cork Kent Station for 09:35 and we transfer to our Railtours Ireland tour coach, passing through Cork City en route to Blarney Village and historic Blarney Castle & Gardens, built in 1446 by Dermot McCarthy. You will have time to kiss the famous stone, which is said to bestow the gift of eternal eloquence on those lucky enough to do so. There is also time for shopping and lunch at Blarney and we recommend that you have lunch there, as this will be the only opportunity during the day to have a substantial meal.
We depart Blarney Castle for Cóbh, via the city centre, taking in some of the city sights while en route to our next destination.
On arrival at Cóbh, we will visit St. Colman's Cathedral. We will then proceed down along the sea front passing the former White Star Line offices en route to the beautifully restored Victorian railway station/transatlantic terminal. This is now the Cóbh Heritage Centre, home to the Queenstown Story. The centre also houses much information about the Great Famine and subsequent Irish Emigration; 3 million Irish people emigrated from Cóbh, (principally to the United States) including Annie Moore, whose statue is located in front of the heritage centre.
Depart Cóbh by train to Killarney, where the rest of the evening is free. There is a large selection of cafés, restaurants and bars in Killarney town as well as many opportunities for live traditional Irish music and entertainment.
FREE UPGRADE TO 4* HOTEL IN KILLARNEY, SUBJECT TO AVAILABILITY IN OUR PARTNER HOTELS AT THE TIME OF BOOKING.
---
Enjoy your Ful Irish Breakfast at leisure before departing on your Ring of Kerry tour.
There are plenty of stops along the Ring of Kerry for morning tea, lunch and photo stops etc. Ireland's highest mountains are located in Kerry and Carrauntouhil, which can be seen en route, is the highest, standing at 1041 metres.
We will make a stop at the Kerry Bog Village Museum, which gives people an insight into how people lived and worked in rural Ireland in the 18th century. The village is the only one of its kind in Europe. Later on the approach to Waterville there are views (weather permitting) of the Skellig Rocks (islands), where Star Wars 'The Force Awakens' was recently filmed.
We will make several photo stops, a stop for lunch and one final stop at the pretty village of Sneem, for about 30 minutes, or as directed by your tour leader.
An essential part of any visit to Ireland, this tour circles the magnificent MacGillycuddy Reeks and runs through its many passes and valleys along the shores of Dingle Bay and Kenmare Bay. There is an unspoilt nature to Ireland's most beautiful region and the Ring of Kerry provides many unforgettable memories as it passes through the many picturesque villages such as Glenbeigh, Waterville and Sneem and returns via Ladies View, the famous Lakes of Killarney and through the Oakwoods of Killarney's magnificent National Park.
At the end of the tour you will be brought to Killarney for your second night.
Limerick, Bunratty Castle, Cliffs of Moher & Galway
---
Enjoy your full Irish Breakfast at Leisure.
07:30 Depart Killarney by road to Limerick to join the Bunratty Castle and Cliffs of Moher Tour.
Arrive into Limerick where we will join our Railtours Ireland tour coach. Limerick has a population of about 90,000 and its city charter was granted in 1197AD, making it older than London! As we cross the river Shannon - Ireland's longest river - you will see views of King John's Castle to the right. The castle was completed in 1200 and marks the origins of the city.
Limerick's most famous author, Frank McCourt, grew up here and the city was the setting for his famous book Angela's Ashes. Limerick is also the birthplace of celebrated BBC radio DJ, Terry Wogan and Hollywood star, Richard Harris. We will pass the GAA grounds of Páirc na nGael –the home ground of County Limerick's Hurling and Gaelic Football teams. Limerick is also the home of Irish Rugby and we will pass Thomond Park, the Rugby stadium.
After a brief city tour we travel onto Bunratty Castle and Folk Park. The castle was completed in 1425 and, after many years of neglect, has been restored to its former glory. There is also a folk park here which you will have time to explore.
After the visit to Bunratty Castle and Folk park we make our way to Co. Clare. There is a lunch stop at O'Connor's Pub in Doolin before arriving at the Cliffs of Moher, which are among the highest sea cliffs in Europe. There is plenty of time to visit Ireland's second most popular tourist attraction and your host will advise you of the departure time. From here, we take the coast road for much of the way to Galway, with time for photos along the Burren. This is a national park and the word 'Burren' comes from the Irish Language, meaning 'rocky place'. It is a unique lunar landscape of limestone which was described in 1649 by one of Oliver Cromwell's men as: "No tree to hang a man, no water deep enough to drown him and no soil deep enough to bury him". Today the Burren is noted for its diverse flora with few parallels elsewhere in Ireland or, indeed, Europe.
We continue along the coast road to Black Head, passing the quaint coastal villages of Ballyvaughan and Kinvara before joining the main road to Galway.
At the end of the day the coach will set you down at Eyre Square, in the centre of Galway City, adjacent to your hotel (and the railway station). You will be directed to your hotel by your host and your evening is free in Galway.
Connemara and Kylemore Abbey
---
Enjoy your full Irish breakfast at leisure.
Depart Galway and our conducted tour of Connemara leaves Galway to the village of Moycullen. From Moycullen the road rises and falls towards the lovely village of Oughterard on the shores of Lough Corrib, traditionally regarded as Ireland's premier angling centre. Now the gateway to Connemara opens, and the breathtaking colours of this unspoilt countryside are revealed in all their natural splendour.
At Maam Cross, the "Connemara Crossroads", there is a replica of the cottage used in the 1950s John Wayne and Maureen O'Hara film The Quiet Man, which was filmed here. From Maam Cross, our tour heads out to Leenane, Kylemore Abbey and Letterfrack, in the shadow of purple mountains rolling down to blue and green rocky valleys, reflecting the rich and varied colours of Connemara.
There is a lunch break at Kylemore Abbey and Gardens, a nineteenth-century castle now owned by the Benedictine nuns who run an excellent pottery, gift shop and restaurant here. Letterfrack is one of Ireland's major national parks. The colourful town of Clifden has been one of Irelands leading holiday resorts for generations. It is an excellent touring centre beloved by the walker, the biker, the hiker or the fisherman. It was here too, at Derrygimlagh Bog, near Clifden that aviation history was made when Alcock and Brown crash landed after their historic transatlantic flight in 1919.
Back at Maam Cross again and the road turns southwards now through the Screeb, Costello and Rossaveal. Rossaveal is the departure point for ferryboats to the Aran Islands and is also a major fishing port. We are now in the Gaeltacht or Irish speaking area of Connemara where Gaeilge or Irish is still the everyday spoken language of a bilingual people.
Our tour of Connemara heads homewards towards Galway City now, along the shores of Galway bay, through the Gaeltacht villages of Inverin and Spiddal and looking out across the blue waters of the Atlantic at the unique limestone of the Burren and the hills of Clare.
After your day's touring you will be returned to Galway Station. Upon arriving at Galway Station please present your Railtours Ireland ticket and travel pack at the ticket barrier and you will be directed to your reserved seats on the train, where you host will be waiting for you.
Depart Galway for Dublin Heuston Station at 19:20hrs.
Returning to Dublin Heuston at 21:45hrs.