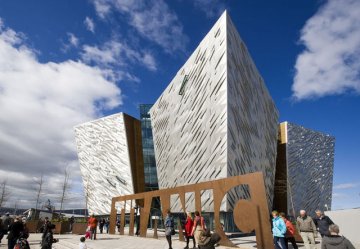 We went to Ireland to celebrate our wedding anniversary. We wanted to see Ireland but didn't want to pack up and move hotels every night. We based out of Dublin and took day tours. We found Railtours Ireland doing research on the Internet and thought it looked like what we were looking for. We walked to their office (across the street from Connolly Station) and the office staff was welcoming and answered all of our questions. We booked the Belfast City tour the first day and it went off (almost) exactly as we thought it would. Turns out, we were the only people in the group that was doing the Belfast City tour, everyone else was doing the Giant's Causeway). However, the guide walked us to our waiting private car to transfer to the Belfast Hop-on, Hop off tour. Everything was carefully explained as it happened.

That trip went so well that we went back a day later and booked the Cliffs of Moher and Galway tour. Again, everything was exactly as advertised. Great tour guide and lots of information. Even the meal at O'Connor's in Doolin was well planned. Weather wasn't great on the Cliffs but we made up for in with a longer stop in the Burrens.

If you want to see Ireland, this is the way to go. They offer multiple day tours as well (if you want to see even more) and they are affordable (by European standards). I will recommend this to all of my friends. They did a great job.