"Highly recommended way to explore "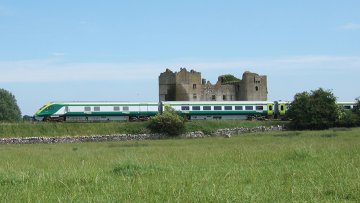 We had a wonderful experience on the "The Great Southern & Western Coast" Tour out of Dublin starting Easter Monday. Rail travel was pleasant and scenic, the excursions were interesting and varied.
The tour guides were personable, knowledgeable, and entertaining. We especially appreciated Bob Beatty for his historical knowledge and anecdotes - as well as his good communication and coordination starting our tour out of Dublin. Also, Maurice with Devos tours out of Killarney as both a driver on "Ring of Kerry" and guide and driver to the Dingle Peninsula. Such a warm and engaging personality with a deep knowledge of the region and history. And Brian was a friendly and attentive host returning from Galway to Dublin on rail.
Also, our accommodations at the International Hotel in Killarney exceeded our expectations; including the staff and the breakfast. We were given a room in the newer wing and were very pleased.
Irish Railtours is a highly recommended way to explore and enjoy the friendly people and beautiful countryside of Ireland! Thank you again
I came to Ireland not knowing anyone there and not having a plan because I basically wanted to get away from the hustle and bustle of things for a while. Still, I thought I should at least see some of the major tourist destinations in Ireland and so I chose a four-day Railtours trip to the south and west of Ireland. It was a delightful, well-organized, and well-escorted tour (even if I had a bit of trouble with some of the guides' brogues at times!)
We took several day trips with Railtours including, Belfast/Blarney Castle, Giant causeway, Cliffs of Moher and Ring of Kerry. All of these trips were well organized, great tour guides with amazing knowledge of the areas, and the scenes were breathtaking. The train and the buses were comfortable, and they chose great places to stop and eat. VERY VERY pleased!!!!
"Thank you for a very successful visit to Ireland"
Our four day tour ended on Sunday evening, thank you for a very successful visit to Ireland. We were very impressed by all the tour guides, they were enchanting and had an absolute passion for their specific objective. We received first class treatment from everyone, the transfer service between cities was invaluable. The most treasured commodity is personal attention which we received in abundance from every operator. highly recommend Railtours