"Railtours Ireland was truly first class"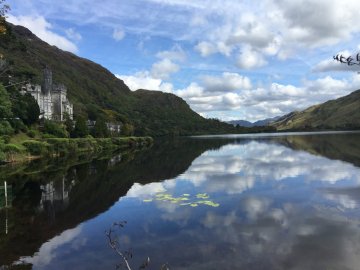 We had a wonderful tour to the South and West of Ireland. Peter C was great on the South and Peter McDonnell was fantastic on the West trip. Very knowledgeable and friendly with a few passable jokes thrown in by Peter M. Great hotels and very clear instructions to keep us on track. We toured for 4 days but some people joined the tours for a day or two. They kept us all organized. It was amazing. Great way to hit all the highlights and see some off the beaten path experiences...loved the sheep dog exhibition. Highly recommend Railtours Ireland.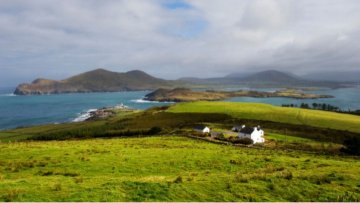 While in Ireland we went on a 4 day tour from Dublin to Cork to Killarney to Gallway and the back to Dublin. Jonathan took us through our first three days and he was phoenominal! He was so knowledgable about everything we saw, planned special stops for us while going through the Ring of Kerry, invited us to Celtic Steps (an wonderful Irish song and dance show in Killarney), had dinner with us, and made us feel so welcome. He made the trip exciting and so fun! This experience is NOT to be missed!
"Would definitely recommend this tour."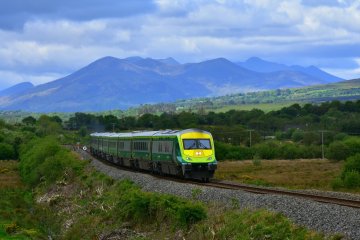 Had a fantastic time with rail tours Ireland. Andy was our tour guide. He was terrific. He really cares about the interests of all of the people in the group. He gave great tours and entertained us as well on the bus. Andy made extra stops and surprised us with an excellent sheepdog demonstration. In Killarney Andy suggested a really excellent show for us. He actually went with is to the show in the evening just to make sure we got in ok and had great seats. We never felt rushed on the tour. We saw so many beautiful sights and had many opportunities for great pictures. Would definitely recommend this tour.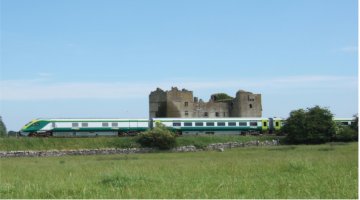 We did the Grand Atlantic Tour and it was amazing -- worth every penny! This was our first trip to Ireland and the perfect way to the the "best of" Ireland! I would highly recommend this tour to anyone going to Ireland. Makes it so easy to get around, well organized and you are allotted free time so there is plenty of time to do all the guided parts and your own thing! We had ANDY as our tour guide for the majority of the trip and then MICHAEL as our guide/bus driver for the days in Galway. And I cannot give enough praise for these two!! Absolutely they made the tour what it was -- incredible!! Andy's songs were a delight! And Michael's knowledge was brilliant. Both men were so kind and helpful. It was a pleasure meeting them.
"The staff was helpful & always there in their yellow jackets. "
We wanted our week in Ireland to have some structure but not an organized tour where we were forced to follow the umbrella and limited time at the stops. This was perfect. We took the Grand Atlantic Tour, but they had so many options to fit anyone's interests/time. The staff was helpful--and always there in their yellow jackets. We loved their spirit to serve and take care our needs. Norman, Margaret, Brandon , Bob and all were so wonderful and funny! There was just enough time and commentary at every stop. The hotels along the way we're perfect, including breakfast each morning. We liked the flexibility of being on our own for lunch during the tour & dinner in town after we checked into the hotel. They were responsive during my pre-booking time, answering the 800# and emails in a timely fashion. They left me with no questions or anxiety for this vacation. I was definite thrilled to leave the "driving" to them so we could enjoy & relax and not to get nervous reading a map!
"Absolutely fantastic service for the whole trip"
Absolutely fantastic service for the whole trip-right from being met at the airport by the man in a yellow jacket! I could not fault any part of the service. One of the hosts is always making sure that I knew where to be next
"Irish Railtours Great Atlantic Tour"
We were a family group of six and we took a four-day Great Atlantic tour with Irish Railtours in July 2015. We couldn't have been more pleased. We had stops in Cork, the Blarney Castle, Cobh, Killarney, the Ring of Kerry, Bunratty Castle, the Cliffs of Moher, the Burren, Galway, and the countryside of Connemara, as well as two two-night stays in Killarney and Galway. We felt that we really got to see a lot of Ireland and we had a wonderful tour guide, Peter White, who made our trip even more special. It was also nice that the weather cooperated. We also had Irish Railtours handle our return leg to Dublin, with a two-night stay at the Spencer Hotel and the Hop on Hop off Bus for two days. I would highly recommend Irish Railtours, a great experience and a good value.
"Our four day tour was a blast. Everything was organized perfectly."
Our four day tour was a blast. We agree with the majority of the reviews regarding the excellent service. Everything was organized perfectly. Our tour guide for the first three days was Jonathon Beaumont. Just as others have said, he is extremely knowledgable and a lot of fun to be around. He made everyone feel special. His stories about the history of Ireland were great. We would never tire of hearing them. When on a tour such as this, what you hear is just as important as what you see. We will always remember the history of the Irish famine. Please consider Railtours Ireland if you ever visit Ireland. What a wonderful and extremely beautiful country.