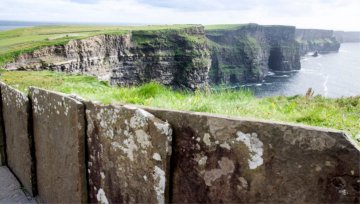 Bunratty, Galway, Cliffs of Moher - AMAZING!
This day trip was truly wonderful. We had the most amazing guide, John Todd, who made the day so memorable. John made sure we were well-informed about all of the sights we were seeing, as well as making it so much fun. While I think the trip would have been special no matter what, John was really the cherry on top! This tour definitely exceeded my expectations and was one of my favorite parts of my trip to Ireland.
"Highly recommend this trip"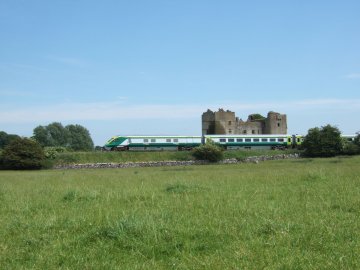 Well organized and a great day
TripAdvisor review: Railtours Ireland First Class - Day Tours
We did the one day trip by rail to/from the Cliffs of Moher with Bunratty castle and a couple other stops along the way. Overall the day was very pleasant and a great time.
Our guide was John Todd, and he was just spectacular. We thoroughly enjoyed his commentary throughout the day and chatting with him on the train back to Dublin.
The Bunratty Castle and grounds were nice. After being in Dublin and miles of concrete for a few days, being in the green of this site was very appealing. It was quite cool in the morning and the grounds and castle were quiet, it was perfect.
onto lunch and a great pub in Dooling and then onto the cliffs, they were amazing and not crowded.
Meeting John in his yellow jacket at the train station was easy, the ticketing and overall instructions throughout the day were very good. We've been on many guided tours and this was a well thought out and easily navigated day. I think our group of 13 did a good job of staying on time, which helps.
I would highly recommend this trip and I would hope you are lucky enough to get John Todd as your guide.
View our Cliffs of Moher, Bunratty Castle, Burren & Galway Bay tour HERE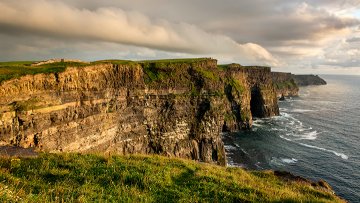 Had an excellent guide(Peter MacDonald) for the day. Left Dublin Train Station at 7:00 am and returned just before 10:00 pm. A full day of beautiful Ireland scenery and history with lunch at a wonderful Irish pub in Doolin and dinner on our own in Galway. Absolutely wonderful.
"We had a fantastic tour "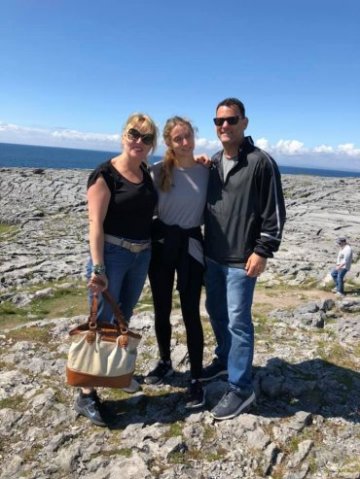 "We had a fantastic tour with David. The Cliffs of Moher, Bunratty Castle, the Burren and Galway Bay is a great way to see a lot of Ireland in a short amount of time. David was a fabulous tour guide and made the day truly enjoyable."
"Incredibly knowledgeable "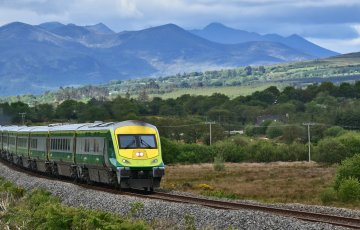 We had a wonderful time on this tour! We were never worried about getting lost. Our guide, Jonathan, was incredibly knowledgeable and took great pride in his country and its history. We had plenty of time at the castle as well as the Cliffs. I enjoyed the bonus quick tour of Limerick as well as the bonus stop at the Burren! Of course, there is only a set amount of time so we really didn't get to see much of Galway. We will have to save it for another trip! Thank you for a wonderful time.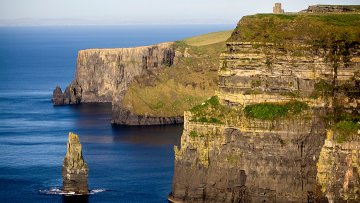 It was long and wonderful day! We were well cared for from the time we boarded at Heuston Station in Dublin all the way across beautiful Ireland to the west coast, throughout our explorations, and back. What raised this experience to excellence was the narration of our guide, Johnathan. We have noted from previous visits the impressive historical knowledge of every Irish man, woman, or child we have met. Johnathan takes it to a whole new level. Our Irish history lesson was woven together in true storyteller fashion creating a rich fabric of Ireland's story and told in the context of world history - ancient, past, and present. We learned of legends, religion, sacred beliefs and traditions still upheld, battles, tragedies, and had many myths dispelled. This morning, I saw a single magpie and uttered the greeting, "Good morning, Sir," to stave off bad luck. Thank you, Johnathan! In addition, our drivers were excellent!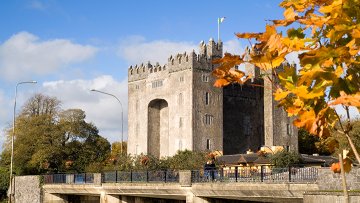 Cliffs of Moher, limerick, Galway, Doolin, the burren
Jonathan was an amazing tour guide with a wealth of information and a fantastic sense of humor! He kept us engaged the entire time and made it a ton of fun!
"Can't wait to do another tour with them!!"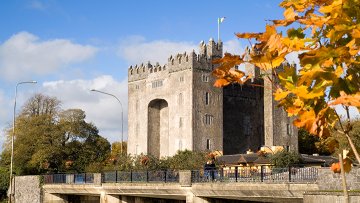 This tour was fabulous! Perfect amount of time at each place, fun train ride and nice bus ride to Cliffs of Moher with beautiful scenery along the way. Andy our tour guide was very funny with his stories and made the trip so much fun. Also, a shout out to Jonathan another tour guide who had a special surprise for us on the train ride back! Along with their singing and visiting with us, it was one of the highlights of our trip to Ireland. We will definitely do another tour with Railtours Ireland. Thanks guys!! ;-)
"Rail tours are phenomenal"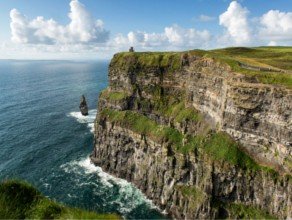 We took 2 rail tours- they are comfortable. I prefer this to the all day bus tour. These tours are long depending on which one you take. Peter and Laim were wonderful host. We were here for a week I recommend take 3 railway tours and 2 bus tours. These guys took care of us and were great. FYI the trains have power plugs and tables plus a bathroom. Free wifi. My family are big guys over 6'4". The leg room is great.
"I would definitely recommend this day tour! We had the best time!!"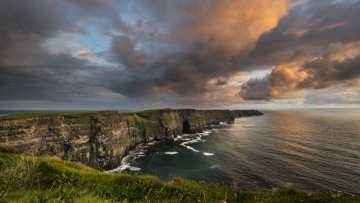 Cliffs of Moher with Joe
During our Spring Break trip to Ireland we took the train/bus tour to the Cliffs of Moher, Bunratty Castle, Burren and Galway Bay. This day tour is definitely a must while visiting Ireland, the scenery is truly spectacular! We really lucked out with the weather and had a clear day which made the view from the Cliffs of Moher breathtaking!
We loved our tour guide Joe! He was so informative and caring about all of the people on the tour.
I would definitely recommend this day tour! We had the best time!!