2020 Departure of the Emerald Isle Express Tour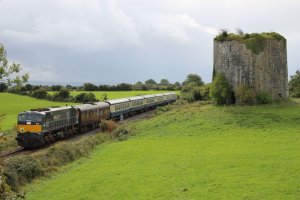 We are thrilled to announce that the fabulous Emerald Isle Express Tour will operate once again, departing on 20th September 2020! The itinerary has been finalised and we are so excited for you all to see it!
Railtours Ireland First Class offers an exclusive rail cruise and manor house tour through Ireland on your own exclusive, private heritage train. Overnight in luxury five-star Irish manor houses, as well as city and country hotels. This all-inclusive tour is limited to 50 guests! We don't sleep on the train – We sleep in Manor Houses, Country Estates and Luxury City Hotels!
Experience Dublin's Fair City before travelling by rail along the stunning East Coast to Waterford, Cork, Cóbh and the Ring of Kerry. Enjoy an Irish night in Killarney before continuing to the spectacular Cliffs of Moher, the Burren and Galway Bay.
A unique Ireland vacation not to be missed!
Book now to avoid disappointment! Remember only 50 seats available! Book here to secure your place https://railtoursireland.com/railcruiseandmanortour.