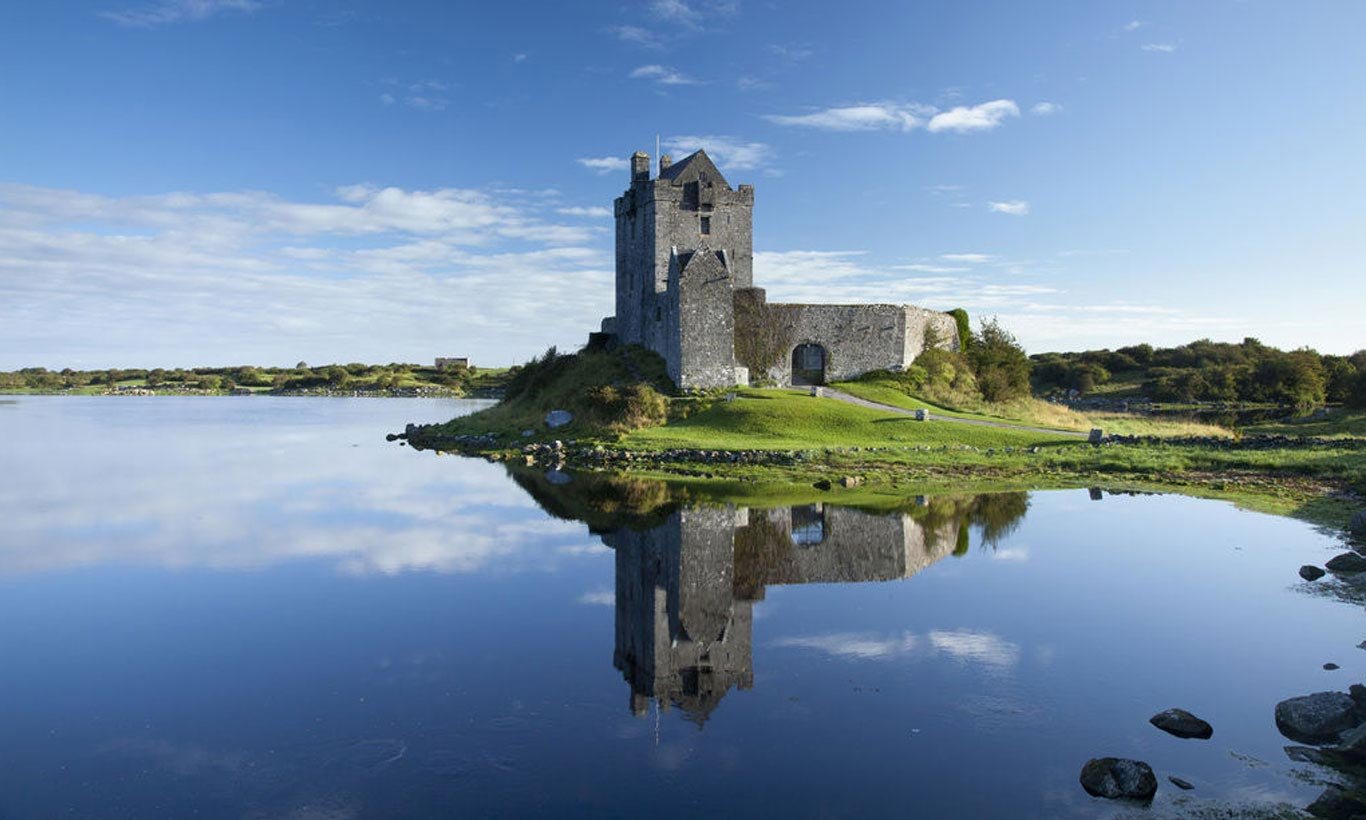 Medieval Castle Banquet on Galway Bay
Medieval Banquet Experience in Dunguaire Castle
FREE 48hr Dublin Bus Hop-on-Hop-off City Sightseeing Tour tickets.
Enjoy a traditional, medieval-themed banquet at the 16th-Century Dunguaire Castle & a Tour of Connemara on following day.
An experience not to be missed!
Stay overnight in Galway City Centre.
Enjoy a medieval Banquet in a 16th Century castle and visit Connemara.
Dunguaire Castle, once the splendid home of noble medieval lord and one of Ireland's most picturesque strongholds situated on the shores of Galway Bay.
Enjoy a 4-course meal with wine and honey mead in a traditional medieval-themed banquet hall.
Live entertainment celebrating the works of some of the great Irish literary writers such as Synge, Yeats, Shaw and O'Casey. In a truly intimate setting.
On day 2 enjoy a tour of Connemara and visit Kylemore Abbey& Victorian Garden.
WHAT'S INCLUDED?
Rail Travel Dublin to Galway
Rail Travel Galway to Ardrahan
Reserved Seats on the train
Railtours Ireland Host throughout
Medieval Banquet at Dunguaire Castle
Wine and Mead
Live entertainment
Visitor Attraction Admissions
Escorted Coach
1 Night Galway City Hotel
Full Irish Breakfast
Connemara Tour on day 2
Kylemore Abbey
View Full Inclusion & FREE Upgrades
Medieval Castle Banquet on Galway Bay - TOUR CODE:DH04BN
From price is based on 1 adult sharing.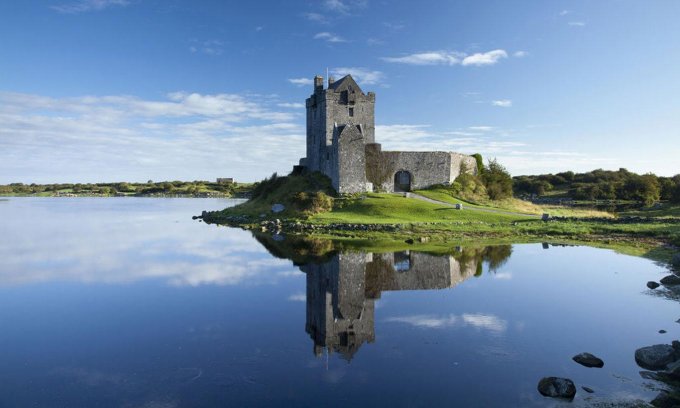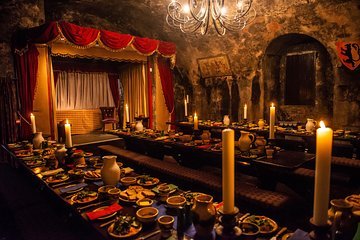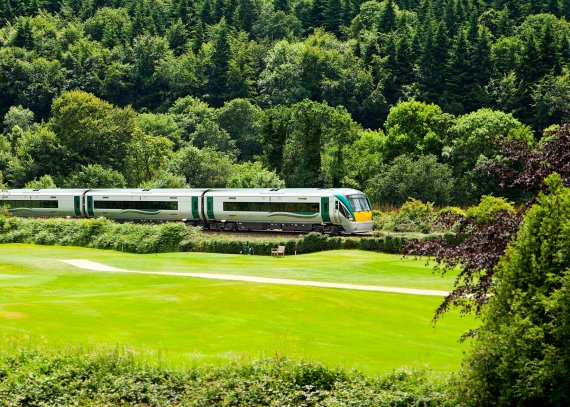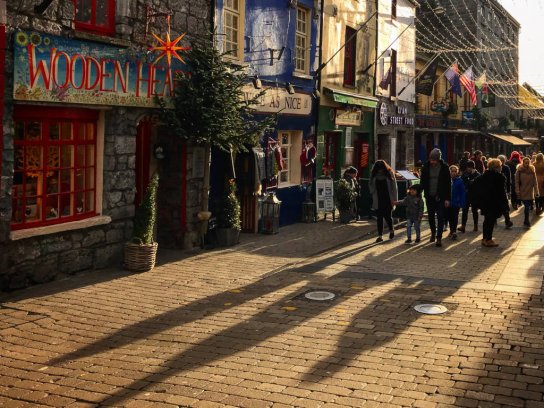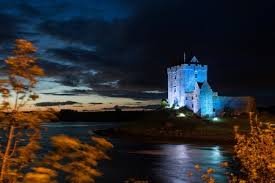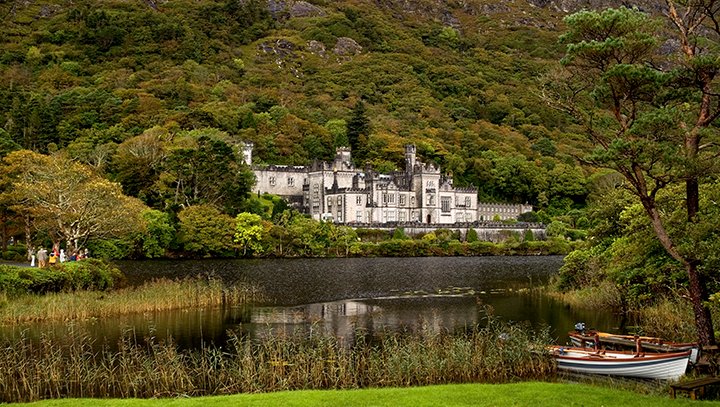 Rail Travel Dublin to Galway
Rail Travel Galway to Ardrahan
Reserved Seats on the train
Railtours Ireland Host throughout
Medieval Banquet at Dunguaire Castle
Wine and Mead
Live entertainment
Visitor Attraction Admissions
Escorted Coach
1 Night Galway City Hotel
Full Irish Breakfast
Connemara Tour on day 2
Kylemore Abbey
NEW TOUR FOR 2020!!
---
Check-in is 20 minutes prior to Train Departure Time.
Check-in is located close to the Customer Service Desk at Heuston Station where our Railtours Ireland representative will be waiting for you in their bright yellow jacket!
Check-in for 11:25 departure from Dublin Heuston Station, opened in 1844 as the headquarters of the Great Southern & Western Railway and is now the official principal station of Iarnród Éireann, Ireland's national railway company.
As your train departs, we travel in a south westerly direction, through Dublin's western suburbs and then through the lush fertile countryside of Co. Kildare. Our journey takes us through the Curragh which is famous for its racecourse, home of the Irish Derby, and there are many stud farms in the vicinity. Your route takes you into the midlands and the Bog of Allen, vast tracts of peat-land. We pass through the County Town of Tullamore and then to Clara across the gentle farmlands of north Offaly. The train crosses the River Shannon, which marks an historic border between the province of Leinster and Connacht – the historic province of the West of Ireland. You are now heading due west, surrounded by peat bog on both sides of the line. On the last few kilometres before Galway, you will get your first glimpse of Galway Bay.
We arrive in Galway City at 13:43. Check in to your hotel and the afternoon is free to explore Galway City - full of culture, artistry and history. Walk the wonderful cobbled streets, colourful shop facades, and enjoy its offbeat café/bar culture.
Depart Galway City at 18:40 by Rail travelling south to the town of Ardrahan, travel by coach to the village of Kinvara for a brief stop before we arrive at Dunguaire Castle where you will be welcomed with a traditional Mead reception and music.
Experience a 4 course meal in the 16th Century Castle's Banquet hall with wine while enjoying traditional live entertainment including Irish music, story telling and folklore.
Listen to beautiful harp music as the King and Queen are crowned.
We return to Galway by coach arriving at 23:00
Connemara & Kylemore Abbey
---
Our tour today departs from right outside Galway Railway Station named in 1966 after one of the leaders of the 1916 Easter Rising – Eamon Ceannt. We go around Eyre Square ( John F Kennedy Park ) in the centre of Galway City before crossing the River Corrib on the Salmon Leap bridge, passing University College Galway, through the Galway suburbs and then striking out in a north-westerly direction towards the savagely beautiful Connemara. You might catch a glimpse of the mighty Lough Corrib ( Ireland's second largest lake ) on our right hand side. We soon pass through the village of Moycullen and enter Ireland's Gaeltacht, or Irish speaking area. We continue through the lovely village of Oughterard and start smelling the aroma of Ireland – the peat or turf fires and their unique blue smoke which has a wonderful fragrance! We now emerge into the spectacular scenery of Connemara – mountains, lakes - all there to behold!
In the summer of 1951 the Irish American Hollywood film director, John Ford (his real name was John O' Feeney), fulfilled his lifetime ambition to film 'The Quiet Man' using the wonderful backdrop of Connemara as his Mainstage. We now visit one of the locations – Leam Bridge, better known now as The Quiet Man Bridge, where Barry Fitzgerald and John Wayne stopped on their way from Castletown railway station to the mythical Innisfree!
From here, you will start to notice the remains of the much missed Galway to Clifden railway line which ran parallel to our route. This spectacular branch line was closed in 1935.
Shortly after we visit Leam Bridge, we stop at Peacockes hotel and Tavern at Maam Cross, the Crossroads of Connemara. Here we have a comfort stop with time for perhaps an Irish Coffee and/or some shopping. You might have time for a quick look at the former Maam Cross railway station, which is now the location of a very exciting restoration project aiming to restore the station and a section of the old Galway to Clifden railway line.
We then proceed towards the hamlet of Maam and make our way down the Maam Valley between the majestic Twelve Bens and the Maamturk mountains! This area is known as Joyce Country and is where anyone in the world called Joyce has their roots! We pause next at the pretty little village of Leenane, magnificently situated at the head of Killary Harbour – Ireland's only true fjord, nine miles from the ocean. We continue on through fabulous scenery to stunning Kylemore Abbey, built by Mitchell Henry as a home for his Bride in the mid-nineteenth century. It is now a Benedictine Convent and is open to visitors. We stop here for almost two hours with time for lunch (not included) and exploring – including the beautiful Victorian Walled Garden, and the Gothic Church.
We continue through the Kylemore Pass and the village of Letterfrack and start skirting Bays and inlets of the sea/ocean which adds to Connemara's attractiveness! Soon we are back on the Wild Atlantic Way and making our way around Streamstown Bay before climbing steeply up the really spectacular Sky Road, where we will have a truly satisfying photo stop with phenomenal views of the wild Atlantic Ocean! We then descend into the lovely town of Clifden, 'Connemara's Capital', for a comfort stop where there will be time for some shopping – or even a pint!
We leave Clifden and start making our way back to Galway through more breathtaking scenery with a comfort stop at Maam Cross, if required. We arrive back in Galway, the City of the Tribes, by 18:00pm.
We will arrive back to Dublin Heuston at 21:45hrs.
Visitor Attraction Admissions included: Kylemore Abbey & Gardens.
Check Out Our Galway Departure Here.