Exciting New Opportunity for British Guests coming to Ireland in the Post-Covid19 World
Naturally, travel has been restricted throughout much of the world over the past couple of months and while certain restrictions will be in place for the foreseeable future, that does not stop us from dreaming and planning our future adventures!
With that in mind, we are delighted to announce that, once it is safe to do so, we will be offering railtours from Britain to Ireland by way of Rail/Sail.
Rail/Sail, you may ask, what is that?
Well, it just happens to be one of the world's best kept secrets. You can purchase a cheap Rail/Sail ticket between any rail station in Britain & any rail station in Ireland, with both train & ferry* included on the one ticket. Avoid the stress of flying in the post-Covid19 period and opt for a more comfortable and environmentally friendly travel option. Choose Rail/Sail.
We will be offering travellers the opportunity to purchase their Rail/Sail tickets directly from us in combination with any other tour package, whether that be a 1-day tour to the Cliffs of Moher or an 11-day extended tour throughout the Emerald Isle. Choose Rail/Sail and travel to Ireland in comfort and style.
* We use the 14:10 Irish Ferries sailing from Holyhead to Dublin.
How Does it Work?
Once you decide which railtour you wish to take, the rest is easy.
Rail/Sail fares cover the cost of the train to Holyhead and the ferry* to Ireland, all on one ticket for one inclusive price. Here at Railtours Ireland First Class, we have added x2 nights in a 3*/4* Dublin City Centre Hotel to the package, as well as a meet & greet and hotel transfer from Dublin Ferry* Port to your hotel (return). This way, you have the chance to relax upon arrival and spend an evening in Dublin City Centre before (pre-tour night) and after (post-tour night) taking your Irish rail tour.
We have 5 different Rail/Sail tour options from which to choose.
These 5 different options correspond to the 5 different travel zones within Britain, from which your journey will depart. When choosing your Rail/Sail package, select the package which corresponds to your departure location.
For example, if you are travelling from London to Dublin, you will choose package 5: Rail/Sail from Zone E to Dublin, Ireland.
Please see below for the different travel zones:
Which British Station is in which Zone?

| Zone | British Stations within the Zone |
| --- | --- |
| Zone A | Gwynedd North, Clwyd |
| Zone B | Greater Manchester, Liverpool & Merseyside, Staffordshire, Shropshire, Cheshire |
| Zone C | Lancashire, West Yorkshire, South Yorkshire, Derbyshire, Nottinghamshire, Leicestershire, West Midlands, Warwickshire, Northamptonshire, Hereford & Worcester, Gloucestershire, Powys, Gwynedd South. |
| Zone D | Cumbria, North Yorkshire, Humberside, Lincolnshire, Cambridgeshire, Bedfordshire, Buckinghamshire, Hertfordshire, Berkshire, Oxfordshire, Wiltshire, Avon, Gwent, South Glamorgan, Mid Glamorgan, West Glamorgan, Dyfed, Somerset. |
| Zone E | London, anywhere in Scotland, Tyne & Wear, Durham, Cleveland, Northumberland, Greater London, Surrey, Norfolk, Suffolk, Essex, Kent, East Sussex, West Sussex, Hampshire, Dorset, Somerset, Devon, Cornwall. |
See here for a full list of Rail/Sail pricing zones from the UK via Dublin Ferryport.
Whatever zone from which you are travelling, we will arrange your itinerary so that you will be on the 14:10 sailing of the Irish Ferries ship - The Ulysses - arriving into Dublin Port at 17:25, where you will be greeted by our Railtours Ireland host and transferred to your Dublin City hotel.
On your day of departure, the return journey will depart Dublin Ferry Port on the Irish Ferries Ship on the 08:05 sailing, arriving to Holyhead at 11:30, for your connecting train journey.
Please note: It is very possible to make the 14:10 sailing of the Irish Ferries cruise ferry from Holyhead with plenty of time, having departed from most British rail stations that same morning. We will provide a full itinerary for your Rail/Sail journey and issue your tickets prior to your departure.
All five Rail/Sail tour options include the following:
Train and Ferry - Rail/Sail - ticket from Britain to Ireland (return)
Meet & Greet at Dublin Ferry Port
x2 nights in a Dublin 3*/4* City Centre Hotel (B&B)
transfer from Dublin Ferry Port to your hotel (return)
Choose your Rail/Sail product from the below options:
Rail/Sail from Zone A to Dublin Ireland, including x2 Hotel Night B&B in a 3*/4* Dublin City Centre Hotel
Rail/Sail from Zone B to Dublin Ireland, including x2 Hotel Night B&B in a 3*/4* Dublin City Centre Hotel
Rail/Sail from Zone C to Dublin Ireland, including x2 Hotel Night B&B in a 3*/4* Dublin City Centre Hotel
Rail/Sail from Zone D to Dublin Ireland, including x2 Hotel Night B&B in a 3*/4* Dublin City Centre Hotel
Rail/Sail from Zone E to Dublin Ireland, including x2 Hotel Night B&B in a 3*/4* Dublin City Centre Hotel
The journey planner at Trainsplit allows you to easily and swiftly work out the most logical route for your journey. And, so can we! We would be delighted to help you choose the correct package. Reach us here.
Once you have chosen your Rail/Sail package, the rest is simple.
Find the right Rail/Sail package.
Choose the date on which you wish to depart and select the number of passengers that will be travelling.
Click on the 'Book Now' button.
Your Rail/Sail package is now added to your basket. See, it's plain sailing!!
See the below example: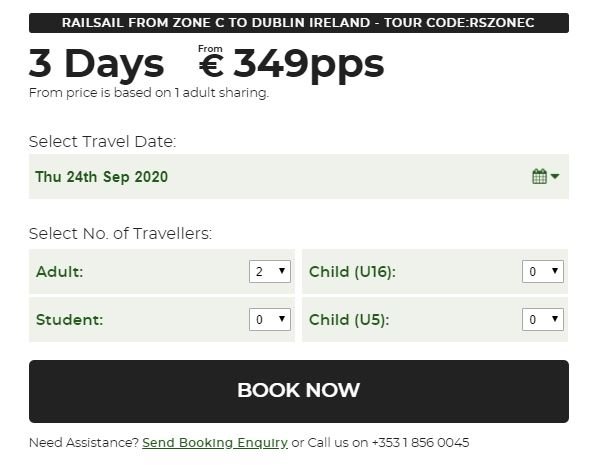 Assistance Required?
If you are having any difficulties with selecting the correct package, or deciding on which railtour suits your needs best, our Railtours Ireland First Class team are here to help. Pop us an email here and we would be delighted to assist you in your query. Our Rail/Sail FAQs page can be found here.
If you wish to purchase your own Rail/Sail tickets from the UK to Ireland, you can check out The Man in Seat 61. This website is home to a wealth of information and imagery about the best way to plan your journey and provides links to all the different booking sources.